Light Rail in the Ruhr
By Oliver Mayer
Page 4
---
Gauges in the Ruhr:
The different gauges are a problem in the Ruhr. In the east (Dortmund) and in the west (Duisburg), tramways were standard gauge from the beginning. In the area between, Bochum-Gelsenkirchen, Essen, Muelheim and Oberhausen, as well as the closed systems of Vestische and Herne-Castrop, also the small systems north of Duisburg and south of Dortmund, metre-gauge light rails were chosen, either because of pressure from the German Railway in the 1890s or because of costs.


The 1960s saw plans to convert all the metre-gauge tramways to standard-gauge Stadtbahn with high 90 cm platforms. Stadtbahn means literally "cityrail" but is better translated as "segregated light rail" - with all the costs this entails. The Stadtbahn plans resulting in few improvements to the surface tramways. In the late 1980s, after more than 20 years of construction, it was realised that the Stadtbahn was too expensive for the benefits - many of which could be obtained by improving, segregating and providing priority to surface alignments. From the late 1980s government funding has concentrated on improving and speeding up surface lines. Many of them now get priority at traffic lights, and have new 26cm high platforms providing level access to low-floor light rail vehicles. These are already in service in Bochum-Gelsenkirchen, Muelheim, Oberhausen and Duesseldorf; Essen and Duisburg are testing new cars, so that only Krefeld and Dortmund remain without low-floor-cars. Level loading combined with faster, reliable service is creating modern light rail systems in the Ruhr without the full Stadtbahn costs and without the inconvenience of tedious access to widely spaced underground stations.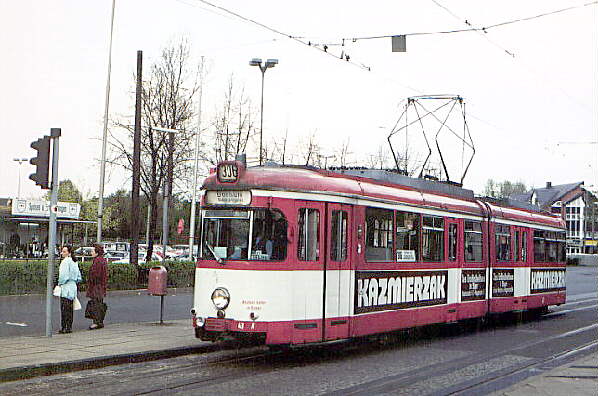 Bochum meter-gauge car no. 43, buit in 1968 by Duewag. Waiting at Wanne-Eickel Hbf to depart for Bochum on line 306, April 1995.
Cars in the Ruhr:
Nearly all tramway, light rail and Stadtbahn-cars in the Ruhr have been built by Duesseldorfer Waggonfabriken (Duewag), now part of Siemens, which has a factory in Duesseldorf. Ruhr systems followed the common practise of requiring cars to be locally built to keep jobs in the region; particularly when funding was provided partly by the regional government (Laender). EU rules now prohibit favouring local manufacture but there seem to be ways of getting around this.

After the war the many two-axle trams were steadily replaced by four-axle-cars and later six and eight-axle articulated cars, either single- or double-ended. Many of these cars are still in service in the Ruhr and other Germany systems as Koeln/Cologne, Mannheim and Heidelberg. When retired many find a second life on other systems in eastern Germany (from Duisburg to Dessau), Turkey (from Koeln to Konya), Romania (from Bonn) and even Japan (from Dortmund to Hiroshima). In the 1970s, the M6, M8 and N8 cars were developed and purchased by Dortmund, Bochum-Gelsenkirchen, Essen, Muelheim and Krefeld in the Ruhr, Bielefeld, Heidelberg and Freiburg elsewhere in Germany. They all look similar with the main difference being gauge, (N for standard or Normal, M for metre), and the number of axles (6 for single articulation, 8 for double).

The Stadtbahn uses B80-cars where 80 stands for 80 km/h. Originally, A-type cars were developed specifically for the Ruhr Stadtbahn but, before a prototype was built, the B-type cars from Koeln were adopted. Koeln and Bonn have the faster variant, the B100. The latest development are low-floor-cars. Bochum- Gelsenkirchen started with the MGT6D-cars (they have 42 cars now), Muelheim and Oberhausen have followed. Outside the Ruhr, MGT6 or NGT6 cars are already running (or have been ordered) in Brandenburg, Dresden, Duesseldorf, Erfurt, Halle, Heidelberg, Kassel, Leipzig, Ludwigshafen, Mannheim and Rostock; with very similar cars in service in Bonn. The cars carry a C designation for chopper-control DC and D for Drehstrom (three-phase) variable frequency and voltage AC propulsion. Other Ruhr systems are expected to acquire low-floor-cars as their fleet becomes life-expired. Most probably all non Stadtbahn cars will be low-floor by 2020.

Tour:
A one day light rail tour of the Ruhr is possible. One recommended route starts in Krefeld. Take a train to Krefeld Hbf (Hauptbahnhof) and sample the Krefeld system. From Krefeld Hbf. take interurban U70 or U76 (some trains have a dining-car) for Duesseldorf. Get off at Belsenplatz and change to the U75 for Neuss. At Neuss Stadthalle, change to tram 704 or 709 to Duesseldorf Hbf. You may of course travel longer through Duesseldorf, but it is a big network!

Next take the other interurban U79, from the underground-station at Hbf and go to Duisburg. Again, some trains have a dining-car. At Duisburg Hbf, change to tram 901 for Muelheim. At Muelheim Stadtmitte (terminus of 901), take some time to see a place where trams of four different systems (Muelheim, Duisburg, Essen and Oberhausen) come together! Take route 112 to Oberhausen (north of Landwehr, the route is completely new) and back again to Muelheim Stadtmitte. From there, take either the 104 directly to Essen or take the 102 to Muelheim Hbf and then the U18 to Essen. If you take 104, change at Helenenstrasse and take 106 to Gelsenkirchen-Horst, change at Ruettenscheider Stern and take the underground (lines U11, 101, 107, 127) to see the mixed gauge section. In either case you reach to Essen Hbf where you board route 106 for Gelsenkirchen-Horst and transfer to Bogestra-line 301 all the way to Gelsenkirchen Hbf. (It is also possible to take faster route 127 directly from Essen to Gelsenkirchen Hbf.)

At Gelsenkirchen Hbf, change to route 302 and to go Bochum Hbf. At Bochum Hbf, there may be time to travel on other Bogestra lines before taking the 310 to Witten-Heven. From Witten Hbf take the S-Bahn S5 (DBAG-train) for Dortmund (every 30 minutes). This is necessary as there is no longer a tram connection between the Bogestra and the Dortmund networks. Get off at Dortmund-Barop and walk over to the stop for line 408, called "Harkortstrasse". This is located about 400 m from the station: first walk southwards, and then follow the street Harkortstrasse eastwards until you see the tram. Take 408 to the city-centre. You can then sample the isolated Dortmund network before returning to your origin from Dortmund Hbf by train.

If you have even more time, visit the Schwebebahn (monorail) in Wuppertal and the trolleybus-network in Solingen. For planning your tour note that light rail lines run every 10 or 20 minutes, more frequently in the rush-hour, with reduced service in evenings, on weekends and during school holidays (every 15, 20 or 30 minutes). There are no dining-cars in the evening and on weekends (except on the U76 on Saturday mornings).

---
[Page 1]
[Home Page]