Skyliner and Narita-Express
Two Trains to bring you to Narita Airport
By Oliver Mayer

This article was prepared by Oilver long before the new Skyliner
route via the Hokuso Line opened in 2010 - The Keisei Service
descibed below operated as the 'CityLiner' until February 2016 when
the AE100 series was withdrawn from service. JR East's Narita
Express still operates but with newer E259 EMU's

---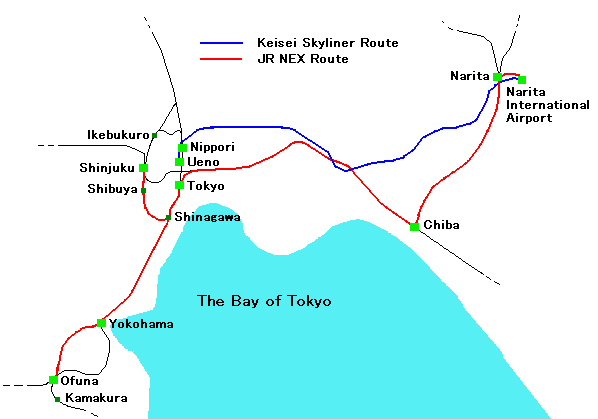 The New Tokyo International Airport Narita
, opened in 1978, lies far away from the city in Chiba Prefecture. Railway access was only by the private
Keisei-line
until 1990, when JR finally opened a branch line from Narita city. Thus today there are two railways, Keisei with the Skyliner and JR with the Narita Express. Keisei started the service to the airport soon after it opened. They had already a line from their station in Narita (Keisei-Narita) to Ueno (Keisei-Ueno), which was extended to the airport. Unfortunately, this station did not reach the terminal, so you had to take a Keisei-bus (and pay extra for it!) to get from the station to the terminal. This changed in 1990, when a new underground railway line at the airport was built. This new tunnel is double track, of which JR uses the northern and Keisei the southern track. When arriving at the airport, the trains first stop at the Terminal-2-station, and then at the final stop Narita Airport (terminal 1). Both stations are located very close to the termini, so that you reach them quite quickly. Keisei's old airport station is still used, it is now on a branch-line and lies in the center of the Narita Airport complex and is now called Higashi-Narita (East Narita).
Photos:

Skyliner, rolling into Takasago station. By Oliver Mayer.
Narita Express, at Ofuna station. By Hiroshi Naito.
About Kesei:
First, let's take a look at the Keisei-trains. Keisei is a private railway with 1435 mm-gauge starting at Keisei-Ueno (a small walk from JR's Ueno station) and then running to Narita and Narita Airport, a branch line goes to Chiba. Keisei offers the cheapest way to get to the airport with their tokkyu- (limited express) trains. They cost just the basic fare of 980 Yen from Keisei-Ueno, take between 73 and 80 minutes and run every 20 minutes all over the day. Normal cars are put on the service of these trains, and they are not very comfortable, there is also no seat reservation available. So if you want more comfort, take the Skyliner. These very fast express trains only stop at Nippori (two stations out from Keisei-Ueno with very good possiblities to change to JR) and take just 61 minutes to the Airport. Besides the basic fare of 980 Yen there is a supplement of 900 Yen, including the mandatory seat reservation. The Skyliner runs every 30 minutes in the morning and every 40 minutes during the rest of the day, making 23 return journeys between Keisei-Ueno and Narita Airport. All Skyliners are 8-car- trains of the AE-100 series. There are also trains to Higashi-Narita, approximately every 20 minutes. But these trains are either locals or the rather slow kyuko- (express) trains, some going through to Ueno, some only to Narita.

About JR Narita Express:
Since JR started its service to Narita Airport in 1990, this service with the Narita-Express (NEX) has attracted many, many passengers. Just like the Skyliner, the NEX also makes 23 return journeys a day between Tokyo station and Narita Airport, taking between 53 and 64 minutes. Trains run every 30 minutes, expect in the morning between 9 and 12, when there is only one train per hour. The NEX does not only go from Tokyo to Narita Airport, but normally starts in Shinjuku and Yokohama. Both train parts then meet and are coupled at Tokyo station. The first NEX-trains (253 series) were 6-car-trains made from two 3-car-sections. Today, the NEX runs with 9- or 12-car-trains, thus having one or two 6-car-sections and one 3-car-section. The coupling in Tokyo station works as follows: First cars no. 7 to 12 arrive from Yokohama with car 12 being the first car towards Narita Airport. Four minutes later the second train arrives from Shinjuku with cars no. 1 to 6. This train stops a few meters before the other train, and then goes on slowly to be coupled. The doors on the front-end of the cars open automatically, and then a concertina gangway connects both trains, so that passengers can move freely between the two parts. Of the 23 trains per day, there are 6 trains direct from Shinjuku - Tokyo - Narita Airport, 5 trains direct Yokohama - Tokyo - Narita Airport and 12 trains join at Tokyo, from Shinjuku as well as from Yokohama. There are actually 4 trains daily coming from Ikebukuro via Shinjuku, and 2 trains coming from Ofuna via Yokohama. Many trains also stop at Shinagawa, and some in the evening also stop at Chiba and Narita. The NEX is more expensive than the Skyliner, costing 2890 Yen from Tokyo in the normal car and 4890 Yen in the Green Car (1st class). The prices from the other stations (Ikebukuro, Shinkuju, Shinagawa, Ofuna and Yokohama) are of course higher. The price includes the seat- reservation, but when all seats are taken, standing room is available - for the same price. JR also offers a rapid train service, which is much cheaper (1260 Yen): Trains on the Sobu- rapid/Yokosuka-line make 14 return journeys to Narita Airport daily, taking 85 minutes to get there from Tokyo.

So which train is the best? The Narita-Express is very comfortable (especially the Green Car), and as it goes through to Shinjuku and Yokohama, it is also very convenient for those who want to change at these stations. But changing at Tokyo is not very good, as the trains stop at the underground platforms of the Yokosuka-line, far away from the other JR trains and very far away from the Shinkansen platforms. Keisei is quite cheap, which is their big advantage. They cannot offer as many good possiblities to change to other trains, but if you take Keisei, then you can change to JR at Nippori. There you do not have to walk very much; as the Skyliner takes only 56 minutes to Nippori, it is faster to change to JR there and then go to Ueno or other places than to take the NEX and to change at Tokyo. Skyliner and NEX are both very nice trains, although the NEX looks more interesting from outside and also from the inside with black-red seats (a French design), while the Skyliner has rather traditional brown seats. Both trains have vending machines and telephones. JR and Keisei both have a share of about 12 percent of the traffic to and from the airport. This share has risen significantly since 1990, and most of that increase was due to the decrease of the Limousine Bus service. There are many bus routes from central Tokyo to the airport, which take at least one hour and cost 2700 Yen; buses on most routes run every 10 minutes. Actually JR has won very many passengers, while Keisei's Skyliner has lost about 20 percent since 1990. The future might bring Keisei more passengers again, as they are planning a through service from their line into the Asakusa-subway into the heart of Tokyo and further onto the Keihin-Kyuko-line. So a direct rail link between Narita Airport and Haneda Airport could be made.
---
[Home Page]