The Japanese Railway Society Homepage
News Update
By Anthony Robins

November 2012
---
New Faces Chunichi Shimbun/JR Tokai/Mainichi Shimbun/Tetsudo Fan
Late July saw the unveiling of the next generation Tokaido/Sanyo Shinkansen 'N700A' model. Delivery started the following month and the type entered service on 8th February 2013. It features a new 'N700A' stylised bodyside logo. Although changes from the previous N700 are limited, apart from braking and ATC equipment improvements, they include changes to seats, with seat cushions made from 100% recycled material for the first time in a bullet train. LED lighting saves 20% power compared with the N700.
Early September saw the unveiling of the design for the new type for the Hokuriku Shinkansen in preparation for opening of the Nagano to Kanazawa section at the end of the 2014 financial year. Trial operations will begin in Autumn 2013 or soon after. The type, classified as E7 (JR East) and W7 (JR West) will feature improved emergency braking to deal with gradients on the route. The twelve car sets will have a seating capacity of 934, with both green car and gran class seating, following the introduction of the latter with the E5. The stylish livery features an ivory white body, with blue roof and nose symbolizing the blue sky of the Hokuriku region. The colour of lines on the side represent the colour of regional bronzeware. The interior combines traditional and modern design with a lattice pattern on its seats and floor.
Kintetsu has been refurbishing its type 23000 six-car 'Ise Shima Liner' sets used to reach Kashikojima from its urban hubs. Originally introduced in 1994 in a yellow and white livery, three of the six sets are now switching to a salmon red 'sunshine red' and white livery with narrow blue stripe at platform level. Brighter interiors feature blue seats (regular cars 1 to 4)(2+2), mainly pink (salon car 5 with facing seats)(2+1) and a more restrained light brown (deluxe car 6)(2+1). The sets feature improved 'barrier free' access. The first two sets were back in service in August and September. The other four are being completed between December and July 2013.
In addition to the above refurbishment, Kintetsu also unveiled its new luxury 'Shimakaze' (Island Wind) limited express in September. Operating except Wednesdays from 21st March between Nagoya and Kashikojima, as well as Osaka and Kashikojima, the six car train features a café car (double-deck) in car 4 and a group section in car 5. Fares will reflect the amenities, with an additional charge (on top of the normal limted express charge) ranging from 700 yen (up to 80 kilometres) to 1,100 yen (more than 180 kilometres). Total cost of a Namba to Kashikojima journey on the 'Shimakaze' is 4,810 yen. The train was displayed at both Uehonmachi and Namba, as well as Nagoya and other locations during the autumn and winter.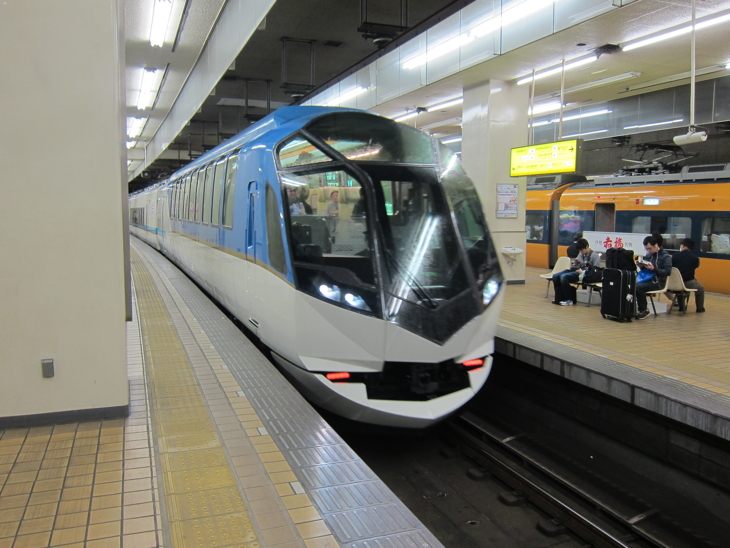 One of the new Kintetsu 'Shimakaze' 50000 series EMU sets shown at
Kintetsu Nagoya Station on 7 April 2013. Photo: Anthony Robins
Early September saw the appearance of the first EF210-300. It is outwardly similar to earlier EF210, except for a gold stripes along the sides, consisting of a single one just below roof level and twin ones at waist level.
The Kururi Line, a JR East outpost of JNR era equipment (Kiha 30, 37 and 38) in Chiba Prefecture, now has the first three of its planned ten new E130s, an unpainted type featuring light blue and green vinyls around the window areas and yellow doors. They were delivered in late August, first by road from the Niigata Transys plant, then via Omiya and the Musashino and Keiyo Lines, behind EF64 1031 and then DE10 3911 for the last leg.
Bowing Out Tetsudo Fan/JR Kyushu
JR East's 29th September timetable change saw an increase in E5 workings on the Tohoku Shinkansen at the same time as the double-deck E1, dating from 1994, was retired from the Joetsu Shinkansen. The twelve car E1 sets had a capacity of 1,229, as opposed to the 1,634 of a twin eight car E4 formation. Time is also running out for the latter.
Odakyu's 20000 (RSE) set 20001 withdrawn from its former use on the joint service with JR Tokai on 16th March made its last run on 3rd August from Seijigakuen-mae to Odakyu's Sagami-Ono workshops.
Operations at JR Kyushu's historic Meiji-era (1891) Orio Station (Kagoshima Main Line) moved to a temporary station on 7th October as part of elevation works. 3,000 sets of commemorative tickets were issued.
Through Running Tokyu Corporation
16th March 2013 saw through running instituted between Tokyu's Toyoko Line and the Tokyo Metro's Fukutoshin Line, utilising the Tadao Ando designed underground station which has been in partial use up to now. In turn, this allows through running northwestwards to the Seibu and Tobu Lines and southwards over the Minato Mirai Line, a distance of 88.6 kms in the case of Motomachi (Yokohama) to Shinrinkoen (Tobu). One example journey, Yokohama to Shinjuku Sanchome now takes 32 minutes at a cost of 420 yen. Through running from the Toyoko Line to the Hibiya Line has ceased.
Groundbreaking The Japan Times
18th August saw a groundbreaking ceremony attended by Transport Minister, Yuichiro Hata, and the governors of Nagasaki and Saga Prefectures for the 21 kms Isahaya-Nagasaki stretch of the shinkansen route serving Nagasaki. It will connect with the 45 kms Takeo Onsen-Isahaya stretch which is already under construction, with the aim of opening at the end of the 2021 financial year.
On the Move Tetsudo Fan
Stored out of use since their demise from operations on the Iida Line north from Toyohashi, several type 119 sets latterly stored at Nishi Hamamatsu have been moved by road to Osaka for possible future use on JR West lines. In contrast, moving to Hamamatsu have been the first 'N700A' cars (see above). Built by Nippon Sharyo at Toyokawa near Toyohashi, they were moved by road at the rate of two cars a day.
Major Strengthening Yomiuri Shimbun
As part of a five years' infrastructure project through to March 2016, the Japanese government has set a goal of making all major stations (10,000 passengers or more daily) 'quake resistant'. Currently, 88% are considered to meet this criteria.
Steaming Back and Off the Rails The Japan Times/Tetsudo Journal/Chichibu Railway
Bringing joy to disaster hit Fukushima Prefecture was C61 20 operating round trips between Koriyama and Fukushima on 28th and 29th July, with test operation during the previous week.
The Chichibu Railway's steam hauled 'Paleo Express', featured on a number of JRS related tours in the past, was replaced by electric haulage after the locomotive, C58 363, was damaged after derailing on a point at the company's workshops at Hirosegawara in Kumagaya on 6th August. Steam operation resumed in March.

New Role Tetsudo Fan
Hiroshima Electric Railway's Dortmund car (76) is now resplendent as a restaurant 'Tren Vert Express', with one of the three sections featuring a lounge which can be hired with German food. It is located just across a road from the company's headquarters and depot.
Narrowed Down Chukyo Television/Tetsudo Journal
Faced with an annual loss of 300 million yen, Kintetsu plans to replace services on its 2' 6" (762mm) Hachioji and Utsube Lines, which connect with its Nagoya Main Line at Yokkaichi in Mie Prefecture, with buses. This will leave only the former Kintetsu Hokusei Line, now operated by Sangi, as the last example of this once common type of line.
Also on its way out is JR Hokkaido's Esashi Line. On 3rd September the company announced that the 42.1 kms line will close in the 2014 financial year, before the opening of the Hokkaido Shinkansen between Shin Aomori and Shin Hakodate. Average daily passengers have fallen from 253 in 1987 to just 41, leading to a loss of more than 300 million yen annually.
The Height of Popularity Yomiuri Shimbun/The Japan Times
Referred to in 'Bullet-In 75' was the new Sky Tree developed by Tobu Railway. In the first 100 days from 22nd May, 16.66 million people visited the tower and its neighbouring Solamachi retail complex. About 10% of that number visited the tower's observation decks and about 10% visited in its first week. Tobu's aim was for 32 million visitors in its first year, 1.3 times the annual number of visitors to Tokyo Disney Resort. Tobu now expects 600,000 more than the 4 million projected visitors to the 350 metres observation deck. These visitors are expected to contribute to a 6% rise in consolidated operating revenue and a 40% rise in net profits for this financial year.
Multilingual The Japan Times
With its geographical location, territorial disputes aside, Kyushu looks to China and Korea, as indicated by the announcements in Chinese (Mandarin) and Korean for inbound tourists, as well as English and Japanese. Now, Fukuoka City's subway system has added the two languages to its touch screen vending machines, at a cost of 42 million yen for the 152 machines at its 35 stations, with completion scheduled on 23rd September.
Interim Solution Yomiuri Shimbun
As previously mentioned, 'BRT' (Bus Rapid Transit) has been seen as a way to speed up reinstituting transport links where JR East lines were put out of action by the March 2011 tsunami. The first stage to go into action involved 2.1 kms linking Rikuzen Hashikami Station and Saiichi Station on JR East's Kesennuma Line. Operations began on 20th October, ready for the new school term. The route is basically single lane, with a service between every 10 and 30 minutes in the morning and evening and hourly off-peak.
Child Friendly Asahi Shimbun/Tetsudo Journal
'News Update' in the past has shown the success in the use of both cartoon characters, such as 'Anpanman' (JR Shikoku) and 'Pokemon' (Meitetsu and Kyushu Shinkansen) and animals such as cats (Wakayama Electric Railway) to promote rail travel. Latest on the bandwagon is Takaoka's Manyo-sen, where low-floor 1005 (A/B) has become 'Doraemon Tram' to celebrate the robotic cat which is one of Japan's favourite animated characters and has featured on an Odakyu EMU. Its creator, Fujiko F. Fujio, was born in the city and the move celebrates the character's birthday (technically 100 years in the future). The cars are in a deep light blue with pink doors representing the 'dokodemo' (wherever) door through which the character can travel to any place, and interior with characters from the cartoon. A ribbon-cutting ceremony was held on 8th September, with the city's mayor and the animation company's president. The set's GPS system.makes it easy for fans to locate it from mobile phones. 2,000 commemorative one-day 'inchinichi' tickets have been issued and a further 3,000 will be issued, split into two batches before the livery is changed in August 2013.
First appearing in 2005, the Oigawa Railway's 'SL kun', in a light blue livery with face and bow-tie, similar yet different to 'Thomas', but otherwise known as C11 227, reappeared running from 21st July to 26th August on the 09.57 ex Shin-Kanaya and 14.03 ex Senzu workings.
Commemorations Tetsudo Fan/Tetsudo Journal/The Japan Times/Mainichi Shimbun /Yomiuri Shimbun
Japan's museums are not famous for their long opening hours, but 23rd June saw the railway museum at Omiya open its doors in the evening to 1,000 participants to commemorate that day's 30th anniversary of the Tohoku Shinkansen.
To celebrate 100 years since its founding, Ichibata Railway (Shimane Prefecture) put a two car ex Keio type 5000 set back into its original livery in July, to add to the ex Nankai 21000 set repainted in April.
Also back in earlier liveries recently have been the short Kishu Railway's KiHa 603 railcar in cream and reddish brown for an event at its workshops on 1st and 2nd September and in the previous month, Choshi Electric Railway's DeHa 1001 and DeHa 1002, in Ginza Line and Marunouchi Line liveries respectively.
New Resting Places
Tetsudo Fan
After haulage there on 6th July, Nagano Electric Railways' (Nagaden) D set of its type 2000 limited express stock now resides at the 'Nakaden Densha no Hiroba (wide space)' in a kind of open shed at Obuse Station.
9th July saw classic blue liveried carriage SuHaFu 44 25 move to the Mooka Railway (Tochigi Prefecture) having been at Niihama East Port in Shikoku. DE10 30 has moved from the same location to the Isumi Railway (Chiba Prefecture).
Back to the Past Chunichi Shimbun
After a year and nine months out of service at 'Meijimura' (Meitetsu's park with historic buildings at Inuyama north of Nagoya), its historic Kyoto Shiden (Kyoto city tram) operation resumed on 28th September, as part of a transport focus at the park until 2nd December. Its short steam line was due has also since resumed operation.
News Update Archive


---