The Japanese Railway Society Homepage

News Update

By Anthony Robins

May 2017
New Faces Tetsudō Fan/Tetsudō Journal/Asahi Shimbun/Mainichi Shimbun/Railway Gazette International/Chukyo TV/Seibu
JR Kyūshū's latest (11th) 'D and S' themed train, introduced with the March timetable change, again a wood themed design from Eiji Mitooka and Don Design, is the Kawasemi/Yamasemi (Kingfisher). It operates between Kumamoto and Hitoyoshi three times daily and has been converted from two KiHa 47 cars.
Unveiled on 11th January was a special six-car set which went into operation from late January to commemorate the 90th anniversary of the Ginza Line. In yellow livery reminiscent of early trains, it features a retro interior, including woodgrain walls. Delivery of the set (1139) from Nippon Sharyo's Toyokawa Works took place from 26th to 27th November. A further set (1140) operated from March.
Kanto area railways offering enhanced commuting comfort were described in 'News Update' in issue 88. Latest among them is Seibu, with its eight type 40000 sets. Unveiled to the media on 13th February, the first went into service on 25th March. The aluminium sets are being built by Kawasaki Heavy Industries, with Toshiba motors, whose design is expected to reduce energy consumption by up to 50% compared with older trains. Pairs of longitudinal seats can be rotated to a transverse 2 plus 2 style at less busy times. They are being marketed as a S-Train (Scene, Seat, Seamless) operation. On weekdays, this is a through operation between Seibu's Ikebukuro Line and Tōkyō Metro's Yūrakuchō Line. At weekends, it involves two return journeys on Saturdays and Sundays between Seibu's Chichibu Line and the Minato-Mirai Line in Yokohama, a distance of 113.8 km.
Mid February saw the delivery from Kawasaki Heavy Industries of JR Shikoku's new limited express DMU type, the 2600. With a 'Neo Japonism' design concept, and featuring red, gold and white, there will be two sets of two cars (Mc+Mc).
Iyo Tetsudō in Matsuyama, Shikoku, intends to introduce two new type 5000 low-floor cars in September. In orange livery and with a capacity of 60 (26 seated), which is 13 more than the previous type 2100s, they will feature 'ehime' free Wi-Fi and announcements in English to make them more tourist friendly.
New Stations JR East/JR West/Tetsudō Journal/The Japan Times
1st April saw Koriyama-Tomita station open on JR East's Banetsu West Line between Koriyama and Kikuta. East of Hiroshima, Jike opened on JR West's Sanyō Line between Saijo and Hachihommatsu on 4th March, the date of a timetable change for JR Group services. The two new stations, at Kodo-Homachigawa and Aki-Kameyama on the reopened 1.6 km section of the Kabe Line also opened that day. With an aim of 19,000 passengers daily, a new station with elevated tracks is due to open on JR West's Kyoto Line (Tōkaidō Line between Kyoto and Ōsaka), 1.7 km from Settsu-Tonda and 2 km from Ibaraki.
JR East and the Urban Renaissance Agency held a groundbreaking ceremony on 10th February for the thirtieth Yamanote Line station. As yet unnamed, it is located between Shinagawa and Tamachi, near to Sengakuji (Keikyū/Toei Asakusa Line). Designed by Kengo Kuma, it is located on part of a former railyard.
New Home Tetsudō Fan/Chunichi Shimbun
As reported in issue 89 of 'Bullet-In', Ōigawa Railway now has ex-JR Hokkaidō type 14 carriages, three of which had reached Senzu by 20th November.
29th January saw a 'sayonara' ceremony in Jimokuji in Ama City, Aichi Prefecture. D51 827 had been preserved in a shed there, but has now been given to Achiha, an Ōsaka company which specialises in transporting trains. The locomotive was once active on the Chūō Line.
Dying Out Tetsudō Journal
JR Freight's Aichi area depot at Inazawa saw JNR era orange, white and grey liveried DD51s decline to just two by mid-December. The two, DD51 853 and DD51 1805, appeared together on Kansai Line duties on 15th and 16th December.
Enhancements JR East/JR West/Tetsudō Fan
The 4th March timetable saw all 'Nozomi' and 'Hikari' services operated by N700A sets, compared with 100% (Nozomi) and 72% (Hikari) a year before. 60% of Kodama services are operated by N700As, compared with 57% a year earlier.
The 4th March timetable change also saw an extra return Tohoku Shinkansen 'Hayabusa' working: 'Hayabusa 51' from Tōkyō (10:04) to Sendai (11:39) and 'Hayabusa 58' from Sendai (15:57) to Tōkyō (17:32). A 'Nozomi' speed-up saw 'Nozomi 11' from Tōkyō (07:30) reach Hakata (12:33), 7 minutes earlier than before, with other 'Nozomi' services also being speeded up.
JR West has ordered N700A sets for the next three financial years, respectively three in the 2017 financial year, six in 2018 and six in 2019. They will allow withdrawal of all its type 700s.
End and Beginning of Year Specials Kintetsu/Tetsudō Fan
Kintetsu's 'Tsudoi' theme train operated a 'Countdown Beer Special' on 31st December, between Uehonmachi in Ōsaka (23:35), Kashihara-Jingumae, where it stopped from 00:27 to 00:50, and Yamato-Saidaiji, leaving there at 01:18 to arrive back at Uehonmachi at 02:08. Cost of the service ranged from 4,180 yen to 4,680 yen, which included beer, snacks and year-end Soba noodles.
Former JR Tōkai 'Central Liner' type 313-8000 set B203 made the first foray for this type into the Shizuoka area on 23rd November. It worked empty from Kasugai to Anjo to operate a charter to Yaizu before working empty to Shizuoka.
JR East's new 'Train Suite Shikishima' type E001 cruise train has been out and about on test runs. 3rd to 4th and 10th to 11th December saw it make a long trip from Ueno via Kofu, Shinonoi, Nagano and Aizu-Wakamatsu back to Ueno. 5th December saw it on the Nikko line and it was in Hokkaidō on the two following days. It had also been at Sapporo on 26th November.
An eleven car E235 set, of the latest type for JR East's Yamanote Line had three days of test runs from 11th to 13th January between Shinagawa and Kozu on the Tōkaidō Line. A wintry Mt. Fuji made a backdrop. The test runs followed two previous periods in April 2015 and February 2016
.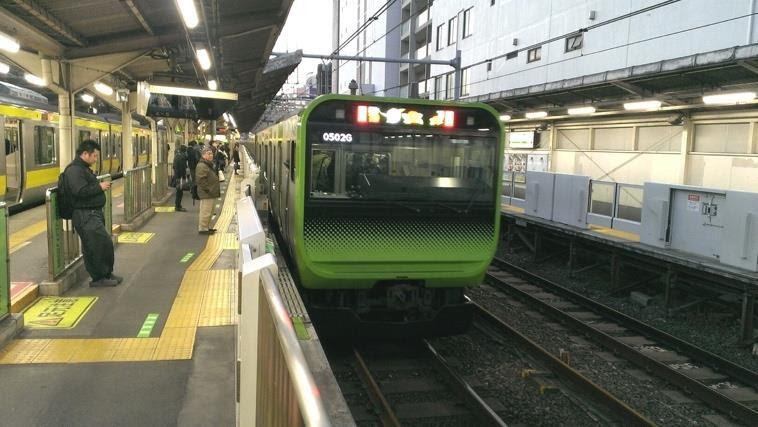 Photo by Kiyoshi Jinno, 23
rd
January 2017

Under Surveillance

Kyodo/Japan Today



Long prevalent in many countries, but rare in Japan, are train interior cameras. However, following those installed on the Tōkaidō Shinkansen type N700 and Hokuriku Shinkansen type E7/W7, Tōkyō Metro will begin installing cameras in 2018 or 2019 above each door of its subway cars, initially on its Hibiya and Marunouchi Lines. The other Tōkyō subway operator, Toei, will also start installing several ceiling mounted cameras in each of its cars. Footage will be saved to hard disks, kept for around one week and only a limited number of employees will have access to it. Although the spur to the installation is the 2020 Tōkyō Olympics, Toei does not expect to complete installation for ten years. The total number of cars to be covered for both operators is around 3,800.



Back on Track

Asahi Shimbun



On 22nd December a major fire in Itoigawa, Niigata Prefecture, destroyed many buildings including a traditional Japanese restaurant 'Tsurugiya'. The restaurant had been supplying bento lunchboxes for the 3rd-sector Echigo Tokimeki's 'Setsugekka' resort train since April 2016. It managed to make a comeback with 26 lunchboxes produced at a temporary facility on 8th January.

28th January saw the first run of the season for JR Hokkaidō's surviving steam run, the 'SL Fuyu no Shitsugen'. Operating between Kushiro and Shibecha, an almost capacity load of about 280 passengers were on the first run from Kushiro. It also ran on nineteen days in February.



In Demand

Asahi Shimbun



The new cruise trains from JR East (Train Suite Shikishima) and JR West (Twilight Express Mizukaze), referred to in 'News Update' in issues 90 and 91, are attracting strong demand for initial journeys. JR West revealed on 17th February that it had received 2,022 applications for 368 guest rooms for its initial three months of operation from 17th June, a ratio of 5.5 applicants to one place. However, the most competitive was a ratio of 1 to 68 for the most luxurious suite which occupies a whole carriage for two people at 1.2 million yen each for a three day run starting on 21st June. 40% of applicants were from the Kansai area, while 30% were from the Kanto area. Following a lottery draw, applicants were due to be informed at the end of February. The overall 1 in 5.5 chance is actually lower than either the JR East train (1 in 6.6) or JR Kyūshū's 'Nanatsuboshi' (Seven Stars) (1 in 7.3). JR West explains this by referring to its train's more frequent schedule.



Railpasses – Better and Worse

JR Kyūshū/JR West/JR Tōkai



A negative development at the end of March was the end of sales to Japanese residents abroad of the two JR passes, the main Japan Railpass (final use until end of June) and JR Kyūshū Pass. They are now
restricted to short-term foreign visitors. This change obviously particularly impacts foreigners with Japanese partners who are living abroad, as well as other Japanese with permanent residence in another
country.

More positive were changes to JR West passes from 10th April. Spurred by the company's aim to achieve a five-fold increase in the number of foreign visitors using their inbound products to Japan, usage of their various passes has been extended to further stretches of JR West and 3rd-sector lines as well as JR Chūgoku bus services in the case of its pass covering the Hiroshima- Yamaguchi area pass. The latter pass, as well as the Kansai-Hiroshima area pass, can now be used at automatic ticket gates.

JR Tōkai has added more choices to its area passes for tourists from abroad. In addition to its own Mt. Fuji-Shizuoka Pass (3 days), plus Takayama-Hokuriku and Ise-Kumano-Wakayama Passes (both 5 days and
jointly with JR West), introduced in July 2016, 1st February saw a new 5-day pass go on sale for use from 15th April, covering the Alpine-Takayama-Matsumoto area.



Preparing

Asahi Shimbun



Since the March 2011 Tohoku earthquake and tsunami, attention has been focussed on dealing with the latter danger. JR West and KDDI, a telecommunications company, have developed a virtual reality (VR) simulation to give drivers a realistic experience of how a tsunami hitting the 43 km between Kushimoto and Shingu (Kisei Line) would appear. Drivers use a virtual reality headset and an animated tsunami is layered on the actual view. The system was due to be introduced in the Spring at a cost of 20 million yen. Approximately 70 drivers who work on this section are due to take training sessions twice a year.



Winner

Mainichi Shimbun



The award of 'Tetsutabi of the Year' (Railway Trip of the Year), presented at the JR East Railway Museum in Saitama City, was won by the new 3rd-sector South Hokkaidō Railway, which has operated local services between Hakodate and Kikkonai since the start of Hokkaidō Shinkansen services. Its 4-hour round trip featuring a seafood barbecue and costing between 8,300 yen and 9,800 yen was selected from among 24 products by a jury chaired by Shin Ashihara, editor in chief of the 'Trains and Travel' magazine. The tour generated 3 million yen in revenue between May and October 2016.



Anniversaries

The Japan Times/Chunichi Shimbun



14th March saw the 25th anniversary of the Tōkaidō/Sanyo Shinkansen's flagship 'Nozomi' service. Initially introduced in 1992 utilising the 270 km/h type 300, it cut the Tōkyō – Shin-Ōsaka time by 19 minutes and was extended to Hakata the following year. The introduction of the type 500 in 1997 with a top speed of 300 km/h allowed further reductions in journey times. Railway journalist, Jun Umehara, indicated that, "It created a virtuous cycle of more train services and enhanced convenience."

A large symbolic birthday cake was unveiled on the same day at Kanazawa Station to celebrate the second anniversary of the extension of Hokuriku Shinkansen services from Nagano to Kanazawa.



New Feline

Face

Asahi Shimbun



5th January was the first day on the job for another cat at the Wakayama Electric Railway. Officially appointed by the President, Mitsunobu Kojima, Yontama is a 8 month old female calico cat. On Wednesdays and Thursdays from 10:00 to 16:00 at Idakiso Station, she will act as a stand-in for 6 year old Nitama, who was previously assistant to pioneer cat, Tama, who died in June 2015. The tenth anniversary of Tama's appointment was also commemorated by this event, which was also attended by Yoshinobu Nisaka, Governor of Wakayama.



Tourist Friendly

Japan Today/RocketNews24/Asahi Shimbun



Both Tōkyō subway operators are trying to improve services for visitors, particularly with an eye on the coming 2020 Tōkyō Olympics. At its Meiji-Jingumae station on its Chiyoda and Fukutoshin Lines, near popular Harajuku and Omotesando, Tōkyō Metro is using Panasonic' 'Megaphone Translator' (Megaphone- yaku), which has also been introduced at Tōkyō's Narita Airport. As its name suggests, it is a megaphone which can be used to translate messages in real-time and can be used for English, Chinese and Korean.

Meanwhile, the other subway operator, Toei, introduced its first multiple language/direction indicating ticket machine at Tocho-mae (City Hall) on its Oedo Line. Users can search by station name, station number, route map, and tourist attractions. It features a high-definition 32 inch screen and initially covered English, Chinese and Korean. French, Spanish and Thai were added by the end of March. Tōkyō Metro started similar services on a trial basis last March and aims to begin full-scale operations using 155 machines at 69 stations from the 2018 financial year.


News Update Archive


---