The Japanese Railway Society Homepage
News Update
By Anthony Robins

July 2012
---
New and partly new faces
Tetsudo Fan
Fujikyu's two 3 car (Kumoha + Moha + Kuha) type 6000 sets (6001+6101+6051 and 6501+ 6601+6551) are former JR East 205s. Branded as 'Fujikyu Commuter Train', with mainly mid-blue relief (stripes and doors), they are set to be joined by two more sets. Interiors features new wooden floors and new seat moquette.
February saw JR Freight HD300-1 join prototype HD 300-901 and the debut of Nagasaki's second type 5000, 5002. Also appearing in February were the first two 8 car type 12-600 sets for Tokyo City's O-Edo Line. The 12-600 sets join 53 existing 12-000 sets.
1st April saw 3001, 3rd-sector Yuri Kogen Railway's new type YR-3000, enter service. Planned to be the first of three, capacity is 114 passengers, including 41 seated, with some facing seats with small tables. Livery is white with green doors and a pattern of squares around the side windows in various shades of green and yellow. Another 3rd-sector operator, Watarase, has introduced a WKT-550 type car. In a smart brown, orange and yellow livery, with gold stripe, it is semi-open with wooden tables and chairs, seating 52, as well as a service counter. The line is famous as an autumn leaf viewing route.
Expanding Workings
Kotsu Shimbunsha/The Mainichi Shimbun/Tetsudo Fan
The 17th March timetable saw expanded operations of JR East's E5. As well as three return 'Hayabusa' workings (2 to and from Shin-Aomori, 1 to and from Sendai), there are eight return 'Hayate' workings, including 2 short Sendai or Morioka to Shin Aomori workings, as well as a slower 'Yamabiko' run each way between Tokyo and Sendai, and two 'Nasuno' return runs between Tokyo and Nasu Kogen.
Hard-hit Sanriku Railway resumed operations over the 24.3 kms of its North Rias Line from Rikuchuu-Noda to Tanohata on 1st April. This means that a total of 60.5 kms out of 71 kms on this line are now back in service. The remaining section is planned to be reopened by April 2014.
The 17th March timetable change saw seven 10 car E657 sets in service on Joban Line limited express services, together with eight 7 car and four 4 car 'Fresh Hitachi' E653s and three 7 car and three 4 car 'Super Hitachi' E651s. The latter 33 cars compare with 99 (9 sets of each length) for the previous timetable.
Bowing Out
The Japan Times/The Mainichi Shimbun/Tetsudo Fan/Tetsudo Journal
The end of March saw the finale of services on two private lines. The Towada Sightseeing Railway over the 14.7 kms from Misawa to Towada-shi, which had been a 762mm line until 1951, and the Nagano Electric Railway's 24.4 kms Yashiro Line branch from Suzaka to Yashiro.
Two Tokaido Shinkansen type 300 sets carried the message 'Arigato. Last Run 300 2012.3.16' on their nose and sides from 17th February until the end of service on 16th March. The last day of service was marked with farewell ceremonies at Tokyo and Shin-Osaka, with 'last run' tickets sold out in one minute when they went on sale one month before. At a ceremony before the departure of the last service from Tokyo to Shin-Osaka, Naotoshi Yoshikawa, the head of JR Tokai's bullet train project headquarters said, "Today we end 20 years of operations, but we want to further improve the technology we nurtured with the 300-series and further develop bullet trains." The same day saw the end of remaining type 100 operation on the Sanyo Shinkansen and trolley service on 'Kodama' services on the Tokaido Shinkansen also ceased, bringing an end to 'Kodama' trolley service, as it has also ceased on the Sanyo Shinkansen.
Three Odakyu types were retired with the March timetable change, encompassing remaining 5000s and 10000s, as well as the hi-decker 20000, formerly sharing the 'Asagiri' service with JR Tokai's type 371. The latter are replaced by Odakyu's type 6000 (MSE).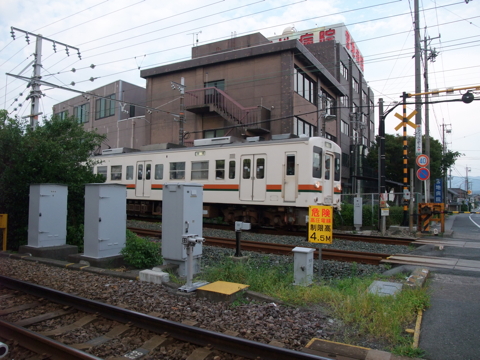 JR Tokai's type 119, which operated many services on the Iida Line, as here at Toyokawa in August 2011
were fully replaced by newer cascaded units from the March timetable change. Many units were subsequently stored out of service west of Hamamatsu.
Sapporo City's Nanpoku Line last rubber tyred type 3000 set, 3105, had its last run on 25th March after more than 33 years of operation since being introduced in November 1978.
Following withdrawals of 2006+2007 and 2008+2009, 2004+2005, albeit officially out of use, remain the only examples of this Hiroshima tram type.
Continuing Repercussions
The Daily Yomiuri/The Mainichi Shimbun/Asahi Shimbun/The Japan Times
Following the events of 11th March 2011, increasing attention has turned to the possibility of a major quake in the Tokyo area. JR East now plans to spend approximately 52 billion yen on upgrading structures on nine lines, including the Yamanote Line. About 200 structures including bridges, bridge girders and 6,730 pillars supporting elevated tracks will be reinforced over the next five years. Some structures date back as far as the early 20th century but have so far been considered strong enough, having survived the 1923 Great Kanto Earthquake. However, before work can start, negotiations with businesses located under tracks have to be completed.
JR East has decided to relocate an 18.2 kms section of its Joban Line between Hamayoshida (Miyagi) and Komagamine (Fukushima) up to 1 km inland to reduce damage from a future tsunami. Purchase of land and construction work will take around three years, with local communities divided on this plan. While Yamato (Miyagi) supports the relocation, Soma and Minamisoma (Fukushima) have voiced opposition because of the delay in the resumption of service.
With recent 'worst-case' scenarios raising the extent of possible future tsunamis, JR companies are establishing better emergency routes for passengers and strengthening communications. Projections even before the latest ones indicated that at least 653 kms of route on 31 lines are at risk. 17th March saw 31 kms of the 37 kms of the Hachinohe Line affected by the 11th March tsunami reopen and 72 escape routes are provided. For example, near Uge station in Hirono, Iwate Prefecture, there is an 18 metres staircase and a 128 metres gravel road to reach higher ground. 11th March also showed the need for better communications and the Ministry of Transport has called on operators to equip crews with multiple means of communication. JR Tokai has installed portable radios with power generating functions in all trains.
5th May saw a period begin when Japan was nuclear powerless, when the last operating Japanese nuclear power installation went offline. Faced with a desire to avoid power supply disruption, rail operators have contrasting approaches. While other Kanto area railway companies have indicated that they are considering moving away from reliance on TEPCO (Tokyo Electric), JR East intends to use a variety of strategies. While it sees itself as continuing to buy power from TEPCO and Tohoku Electric, citing their extensive power transmission infrastructure, it is also planning to beef up its own generating capacity. The latter already provides 60% of its needs from thermal and hydroelectric facilities and it is considering expanding its thermal generating capacity in Kawasaki. In addition, it is planning to use power from regenerative braking more efficiently, particularly by harnessing such power from bullet train lines to provide power for other non bullet train services.
Capital Rivalry
The Japan Times
Rivalry between former capitals is heating up to host a stop on the second stage of the maglev line, between Nagoya and Osaka, due to open in 2045. Plans to route the line through Nara date back as far as 1973, but recently Kyoto has been pushing for a change of route, citing its greater number of visitors, conventions, passengers, and better existing train connections. Kyoto Governor, Keiji Yamada, is looking for the support of the recently formed Union of Kansai Governments, which includes seven prefectures and two cities, but not Nara Prefecture. While the cost of building via Kyoto would be greater, central government estimates indicate 69 billion yen in economic benefits, greater than those gained from building via Nara.
A Second Life
Mainichi Shimbun
Latest items of Japanese rolling stock to be exported to other Asian countries have been 15 ex JR West 'KiHa 181' DMU cars built between 1969 and 1972 and in use between Osaka and Tottori (San-In Line). They were bound for Myanmar and arrived for shipment at Shimonoseki on 7th February. They followed other JR West cars which went to Myanmar in 2004 and were originally destined for scrapping.
Cashing In
Mainichi Shimbun/Asahi Shimbun
As the main company promoting the new Tokyo Sky Tree which opened on 22nd May, Tobu Railways has been keen to maximize the benefits it gains. Therefore, 17th March saw it rename nearby Narihirabashi Station as Tokyo Sky Tree Station. The company's line between Asakusa and Oshiage in Tokyo and Tobu Dobutsu Koen (Tobu Zoo) in the suburbs has also been renamed the Tobu Sky Tree Line. Another change, but in a reverse direction, is a return to its original 1931 appearance at Tobu's rather cramped Asakusa terminus, rolling back changes made when its exterior was covered with aluminum cladding. This terminus was the first in the Kanto area to be directly connected to a department store when it was opened.
JR East's subsidiary 'Lumine', featured at 14 station locations such as Shinjuku station and now at the former Seibu department store in Yurakucho, has targeted working women with limited time. Of its 1 million card members, 90% are female and nearly 70% are in their twenties or thirties. In contrast to luxury brands at department stores, it sells its own ranges of products. Except for a brief downturn during 2008, sales have risen constantly since 1998. Recent challengers include Isetan Mitsukoshi, which opened its first Isetan Mirror store in Shinjuku Station on 6th March and Point, an apparel maker, which has opened outlets in eight stations including Tokyo and Ueno since 2010.
Bumper Year
The Japan Times
Final attendance figures for the JR Tokai Linear Kan railway museum in Nagoya for its first year from 14th March 2011 were 1.09 million, with an average of 5,000 at weekends and holidays and 2,600 on weekdays. The figure compared with an initial aim of 600,000 annual visitors.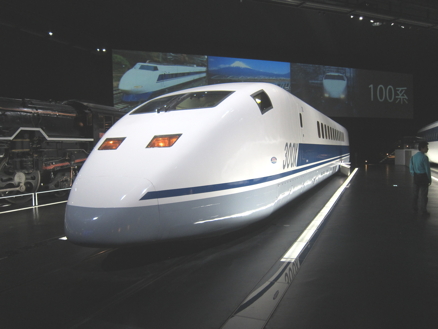 The prototype JR Tokai 300X is one of the exhibits.
News Update Archive


---