September 2001 JRS Japan Members' Excursion
to Four Doomed Meitetsu Lines


Page 1

Leaving Kurono is a 1929-built vintage EMU numbered 751 on its last work with the service closure close at hand.

By Hiroshi Naito
Prologue:
Gathered by the big TV screens at the Shinkansen side of JR Nagoya station were eleven JRS members from Tokyo and Osaka areas along with some living in the Nagoya area. The 2001 JRS Japan members' annual excursion thus started. Our purpose on this year's excursion was to visit four Meitetsu (Nagoya Railway) branch lines exterminating at the end of this month (September 2001). We soon headed for Meitetsu's Shin (New)-Nagoya terminal located underground just adjacent to JR Nagoya station. A two-day pass we purchased for 3,800 Yen to ride around the Meitetsu system appeared quite reasonable for our two-day excursion.


We hopped onto a limited express bound for Shin-Unuma along the Inuyama Line. Thanks to Anthony, we could get seats at the front most or rear most position on the Super Panorama Car. The journey to Shin-Unuma was swift enough with only a 30 minutes ride, but we enjoyed superb front or rear views from the upper level on the Panorama Car. Crossing the Kiso River by a great truss bridge, we pulled into Shin-Unuma station. Until quite recently, the bridge was also a road bridge, and trains used to cross it by street trackage, but now it has turned to dedicated use for Meitetsu trains.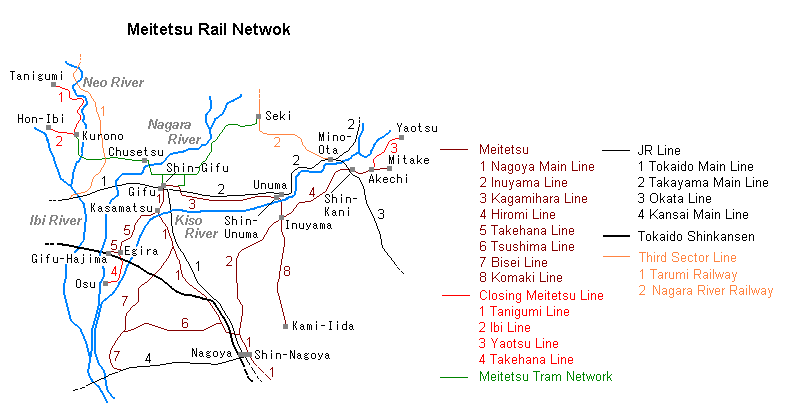 Slowly passing by us was a sleek DMU of type 8500, the Meitetsu version of the JR Kiha 85, on the through 'Kita-Alps' service, leaving the bridge crossing the great Kiso River.

Farewell Kita-Alps at Shin-Unuma:
At Shin-Unuma, next about 20 minutes was spent as photographing time for us at the end of the bridge we had just crossed over. The traffic of Meitetsu over the bridge was quite frequent, and we enjoyed photographing some trains including Super Panorama Car sets. Our absolute object there was the limited express 'Kita (North)-Alps', which ran over the JR Takayama Line as a through DMU service. Sadly, the 'Kita-Alps' was scheduled to be discontinued at the end of this September. Meitetsu has long been providing through service up to Takayama on the Takayama Main Line from Shin-Nagoya via Shin-Unuma. There is a spur track diverging at the approach to Shin-Unuma station to JR's Takayama Line, and the 'Kita-Alps' goes over this special rail link. Around us there were a number of railway enthusiasts waiting for the 'Kita-Alps' like us. Soon, a sleek DMU of type 8500 in its white livery with a dark yellow stripe below the windows, the Meitetsu version of the JR Kiha 85, came into view completing crossing of the bridge and slowly passed by us towards the diverging spur. We said farewell to the Kita-Alps.


Along Kagamihara Line:
Our next journey was as far as Shin-Gifu along the Kagamihara Line by a local. We sat in longitude style seats for a trip of about 30 minutes. The Kagamihara Line runs westwards with the view of the paralle JR Takayama Main Line in the north. The area the Line covers is mostly over Kagamihara city, a satellite city of Gifu, prefectural capital. The great Kiso River is about 1 km south, flowing westwards. Lying south of the river are a number of small cities and towns surrounding Nagoya's urban area. Being so situated, the scenery outside the windows was half suburban and half rustic. The weather was not very favorable under a half overcast sky with thin sunlight. Nearing Gifu, turning to the north, our train went up onto a viaduct to cross over the Takayama Main Line, and then ran down to Gifu's city area. At the approach to Shin-Gifu station, the line was joined by rails coming from the street running Gifu city tram line. This rail link allows the trams to reach Shin-Gifu terminus, featuring unique tram and heavy rail through operation. Soon, we arrived at Shin-Gifu terminus on the ground level. We were impressed with the station's special structure assigning one track to tram cars in dedicated use. The adjoining elevated track with Meitetsu's Nagoya Main Line's Shin-Gifu terminus reached from the south crossing over the JR Tokaido Main Line. Shin-Gifu gave us a feeling of a great strategic rail terminus.


Gifu is still a tram-oriented city with Meitetsu's light rail network. On the street in front of Shin-Gifu station.

To the Tanigumi and Ibi Lines:
On the street in front of Meitetsu Shin-Gifu was a tram stop on double track. Gifu is still a tram-oriented city with Meitetsu's light rail network. The oldest part of the network dates back to 1911 and lines were built up in stages up to 1928. Built by other companies, they were absorbed by Meitetsu in 1930.


From the tram stop, we rode an express tram for Kurono, today's our main destination: where the endangered Meitetsu Tanigumi Line originates. The tram was well loaded with many standing passengers. Rambling along a street, our tram went up to the north for a while, and then took a sharp curve to the west at Tetsumeicho intersection, the Gifu's busiest quarter. After passing some stops and changing direction to the north again, we crossed the Nagara River by a fantastic truss road bridge. After a ride of 20 minutes at Chusetsu, the street running ended, and we entered the Ibi Line section. The remaining of about 12 km for Kurono was in an interurban ambience, with suburban scenery outside the windows, but half mixed with rural landscapes. The run was quite smooth along the dedicated track with increased speed. The sky darkened, and it finally started raining. One station passed had a strange, but difficult name in reading, Shikke, meaning arse-hair. We arrived in Kurono in drizzling rain.


Pausing at Kurono is a 1926-made vintage EMU numbered 514. This is the oldest electric railcar alive in service in Japan.

The 514' cab, with an old Westinghouse-made master controller and an automatic brake handle fitted with two pneumatic pressure gauges.

Kurono is a junction en route along the Ibi Line and the branch to the Tanigumi Line. All trackage of the Tanigumi Line 11.2 km and the western-most stretch of the Ibi Line, 5.6 km between Kurono and Hon-Ibi, were being closed that month (September 2001). Awaiting us on the other side of the platform were a pair of vintage electric cars of type 510, #514 and #513 in multiple unit control mode, in their red and white two-tone livery. They are amazingly 75 years old, and have quite impressive cab fronts, fitted with five-section windows on thrir rounded ends. With the closure of the service at hand, they must have been on their special duties for the last runs. We found the train fully occupied with passengers, who mostly appeared to be train enthusiasts and tourists, who had all come to have their last commemorative rides. In the cab were an old Westinghouse-made master controller and an automatic brake handle with two pneumatic pressure gauges of the brake. We saw another vintage electric car, #751, leaving from another platform for Hon-Ibi.


The round trip to Tanigumi on the vintage EMU was quite nice, with the dear sounds of nose-suspended traction motors all the way. After Kurono, suburban scenery continued for a while, but soon it turned mountainous. On the right, the Neo River came close beyond the paralleling road, but just left to us was the edge of a forested mountain. Our route was along the snaking Neo River for a while through a rustic landscape. Stations passed on the way were all unattended, except an interlocking loop, where a train in the opposite direction was met. The train was a two-car set of vintage types 750 in their red livery. Tokens were exchanged between our driver and a station employee for the final run towards Kurono. Once out of the loop, the Neo River was gone to the north, and passing through a squeezed passage between flanks of the mountains, we emerged onto a plateau where was a stretch of rice fields, with farmhouses scattered here and there. Running along the rather flat land for a while and passing through woods along the foot of a gently rising mountain, we arrived at Tanigumi, where our train was welcomed by a number of photographers on the platform. On our return trip, congestion was worse with passengers packed like in a rush hour train in Tokyo.


Returning to Kurono, we made another return trip to Hon-Ibi by single unit of #751. Although it was a trip on a longitude style seats, riding another type of a vintage electric car was nice. Unlike the Tanigumi Line, the Kurono to Hon-Ibi section was much shorter with only two intermediate stations. Its ambience was half rustic on flat terrain. Thus, we finished our main activities on that day, and rode back to Shin-Gifu by a tram to return to Shin-Nagoya via the Nagoya Main Line.

| | | |
| --- | --- | --- |
| Met at an interlocking loop on the Tanigumi Line was a two-car type 750 vintage EMU built in 1929. | Interior of #514 with passengers who came for a commemorative ride. | #514 waiting for its return work at Tanigumi station located in a rustic village. |
| A light rail car connecting to Shin-Gifu leaving Kurono passing by a small signal box. | | |
Continued to Page 2
---
All photos in this page were taken by the author in September 2001.
---
[
Home Page
]