A Survey of Hokkaido's Rolling Stock
By Peter Dibben
Even before privatisation, Hokkaido has always been home to rolling stock not found elsewhere in Japan. JR Hokkaido, like the other privatised companies is aquiring its own rolling stock thus continuing this uniqueness. The following is a survey of the Hokkaido rolling stock fleet based on recent fleet and depot lists plus observations from the Summer 2001 tour. All information is believed correct at some point in 2001 but not necessarily at any particular date!
Diesel Multiple Units
The majority of the Hokkaido passenger network is served by diesel multiple units.


KiHa261 on 'Super Soya' Wakkanai-Sapporo service, approachs Minami Wakkanai.
Peter Dibben, September 2001.

The three four-car class 261 tilting units are based at Naebo (to the East of Sapporo) and operate the Sapporo to Wakkanai Super Soya service. Normally two of the units each make a daily round trip. Confidence in their reliability during the Summer, meant that the third unit had been split and two cars added to each of the other two, leaving no spare cars at all. The two six-car formations had to work the same services each day because one had one first class section and the other had two. Swapping would have played havoc with the seat reservations!


The most numerous (147 cars) express DMUs are the class 183 units, which are not however based at Naebo but at Sapporo and Kushiro depots. Various formations are used ranging from four to nine cars, some with green cars. There are two different cab styles and liveries making up the main sub classes:


Ki ha 183-1 and 183-200 have cockpit cabs without gangways, the upper sides are white, the lower sides light grey with purple and light green stripe under windows.


Ki ha 183-100 and 183-1500 have normal cabs with gangways, and are branded HET (Hokkaido Experimental Train). The body sides are white with purple and light green stripes under windows but with doors and cab fronts painted mid blue.
These work the following services:
'Ohotsuku' Sapporo - Abashiri
'Sarobetsu' Sapporo - Wakkanai
'Tokachi' Sapporo - Obihiro
'Ozora' Sapporo - Kushiro
'Hokuto' Sapporo - Hakodate


Perhaps the most interesting formations are those used on some overnight trains where the formations are split and a sleeping car (type su ha ne fu 14) is inserted.


These operate between Sapporo and Abashiri ('Ohotsuku') and to Wakkanai ('Rishiri'). The overnight services between Sapporo and Kushiro have two cars inserted, a su ha ne fu 14 plus an o ha ne 24. All these sleeping cars are painted to match the diesel unit's livery.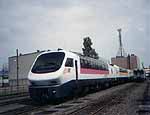 'North Rainbow Express', at Naebo depot.
Peter Dibben, September 2001.

In addition to main 183 fleet, there are the 'joyful' trains used on sightseeing and other special services. These are conversions from 183 type cars with new cab ends and restyled passenger accommodation often with raised floors to give better views. Adding special liveries means that their relationship with the rest of the 183 fleet is not obvious except by their numbers. The three trains are based at Naebo and all were seen on the Summer 2001 tour. The 'North Rainbow Express' 5-car set was undergoing maintenance at Naebo. The 4-car 'Crystal Express' and 3-car 'Niseko Express' sets were operating between Sapporo and Furano.


Another special set, the green liveried 3-car 'Mount Lake Onuma', is based at Hakodate and is used on sightseeing services to the Lake Onuma and Mount Onuma area. This is designated type ki ha 84. The 5-car 'Tomamu Sahoro Express' and the 4-car 'Furano Express' sets were not observed on the 2001 Summer tour but a similarly styled driving car in gold livery was seen in the scrap line at Naebo works.


The class 283 units are similar in appearance to the class 261 in having stainless steel bodies with blue painted sections at the ends of the cars with the raised cabs or passenger doors. These are also tilting units and carry the brand name 'Furico' which is Japanese for pendulum. This fleet of 43 cars operates from Sapporo depot on the following services:
'Super Hokuto' Sapporo - Hakodate (7 cars)
'Super Ozora' Sapporo - Kushiro (6 or 9 cars)
'Super Tokachi' Sapporo - Obihiro (6 or 9 cars)
The 27 cars of class 281 based at Hakodate depot also work 'Super Hokuto' services, but in 7- or 8- car formations. These have stainless steel body sides with a green, blue and red design at the doors and blue cockpit cab fronts with gangways. These cars date from 1994 and are branded 'HEAT Hokkaido Experimental Advanced Train'.


Hokkaido local services are operated by DMUs of several classes.


The largest fleet is the ki ha 40 single units. These are in the standard livery of pale grey with lilac and green stripes. A few are however in special liveries which include ends painted to represent a crab and a fox. This fleet differs from those based elsewhere in having smaller windows and is made up of subclasses ki ha 40-300, 400 and 700 and totals 146 cars.


Kiha 40 and 150
Peter Dibben, September 2001.

Alongside the ki ha 40, is the 27 strong ki ha 150 fleet introduced in 1993. These are a Hokkaido version of the ki ha 110. There are some styling differences particularly in the cab roof, but not smaller windows! Operationally, the important difference is that ki ha 150 will couple to the other DMU types whereas the ki ha 110 will not!


Kiha 54 leaves Minami Wakkanai for Wakkanai
Peter Dibben, September 2001.

Another adapted type is the ki ha 54-500 subclass. Again, these are fitted with smaller windows. These 29 single units are in unpainted stainless steel with a red stripe and a white cab surround. They are concentrated at Asahikawa and Kushiro depots and work mainly on the Soya main line to Wakkanai, the Rumoi line and the Nemuro line.


The Gakuen-toshi line to the north of Sapporo is operated mainly by the ki ha 141 series of single ended cars. This fleet of 44 cars are unique to Hokkaido and were converted in 1989 from o ha fu 51 loco hauled coaches at the Naebo works.


As noted in Bullet-in 40 the type ki ha 130 used on the Hidaka line was withdrawn from service in 2001.


The remaining DMU type are the 3-car ki ha 201 units which are stainless steel with green and blue stripes. These are similar in style and can operate with the 731 type EMUs. They operate around Sapporo between Otaru and Iwamizawa and Chitose.


Electric Traction
Not much of Hokkaido's railway is electrified. The two areas that are, use the same 20,000 V ac 50 Hz system as found in the north of Honshu.


One electrified section is the main line from the Seikan tunnel to Hakodate. ED 79 electric locomotives hauling blue coaches from the type 50 series provide the 'Kaikyo' passenger services through the tunnel between Hakodate and Aomori. Many of these are branded with characters from the Doraemon cartoon series as part of a promotional campaign. Eight out of the thirty-three ED 79s have a large Doraemon cat face decorating their front ends. The coaches run in several different formations and include some cars with carpet areas for students to lounge on and others with toys and ball pools for much younger children.


The other daytime service through the tunnel is the 'Hatsukari' provided by JR East. These also operate from Hakodate to Aomori with some running through to Morioka to provide a direct connection with the Tohoku Shinkansen. These are operated by some six-car 'renewal' type 485 EMUs (3000 subclass) with restyled cockpit cabs, a distinctive white and purple livery and branded 'North East Express'.


There are also sleeper services between Hokkaido and Honshu.
Sapporo - Aomori 'Hamanasu'
Sapporo - Ueno 'Hokutosei'
Sapporo - Ueno 'Erumu'
Sapporo - Ueno 'Cassiopeia'
Sapporo - Osaka 'Twilight Express'
Hakodate - Osaka 'Nihonkai'


Those starting from Sapporo are diesel hauled (one or two DD 51s) as far as Hakodate where ED 79s take over for the run through the tunnel as far as Aomori. Beyond Aomori these trains are handed over to a JR East EF 81. These services use type 24/25 sleeping cars except for the special Cassiopeia set which is type E26/E27. Not all the cars used on these services are based in Hokkaido. Most of the sleeping cars are in the blue livery and the DD 51s are painted to match. The exceptions are the Cassiopeia's silver livery and the green Twilight Express coaches.


The second electrified area is isolated from the Hakodate area. Hence the diesel haulage for the sleeper services. From Sapporo, this electrified area extends Westwards to Otaru, South East to Chitose, Chitose Airport and Muroran, and Northwards to Asahikawa.


The hourly 'Super White Arrow' electric express service, between Sapporo and Asahikawa is operated by type 785 units. These five four-car and five two-car units, like all the Sapporo area electric units, are based at Sapporo depot to the west of Sapporo station. The livery is stainless steel with a dark grey band at window level and purple and green stripes below.


Type 781 units also operate between Asahikawa and Sapporo. Their services however reverse at Sapporo to provide a through service to Chitose Airport. 12 four-car units provide this 'Lilac', 'Suzuran' and 'Airport' group of services. These units are very similar in body style to the normal 481 family but have a different formation with two separate power cars with their own pantographs instead of a linked pair. The most noticeable body side difference is a grille behind the driver's cab door. Livery is light grey with lilac stripes.


721 EMU at Naebo (Sapporo) station.
Peter Dibben, September 2001.

Types 711, 721 and 731 provide local electric services. The 711 type dates from 1966 and we noted some cars being broken up at Naebo works. The 721 and 731 types are younger, being introduced in 1988 and 1992 respectively, and with stainless steel bodywork.


The type 731 is very similar in appearance to the ki ha 201 diesel units with which they can work in multiple. Apart from the presence or absence of a pantograph, the easiest recognition feature is that the nineteen electric units carry red and green stripes while the diesel units have blue and green stripes.


The type 721 carries only the green stripe but differs from the 731 by having deeper cab windows and not having flush fitted passenger windows. The type 711 carries a red livery with cream stripe and has a cab style similar to their 1,500 V dc type 111 cousins. As with many Hokkaido types they have smaller windows than those operating elsewhere and have the further distinction of single leaf sliding doors. Most cars have two doors per side but a few driving cars have three.


Steam and other operations
Steam operations in Hokkaido are in charge of two 2-6-4T locomotives, C 11 171 and C 11 207. These operate over various routes the most well known being Fukagawa ? Mashike (Suzuran) and Sapporo ? Rankoshi (Niseko), other routes are Asahikawa ? Nayoro and Asahikawa ? Furano. The small fleet of coaches to work these trains includes vehicles from types 14, 33, 42, and 44. The formation in use during the 2001 summer tour was: C 11 171, o ha 14-519, o ha 14-526, su ha tsu 44-1, su ha fu 14- 505, yo 4647, DE 15 1535.


Yo 4647 is of course a freight brake van but was nevertheless available to ride in. The brown liveried o ha 14 coaches still retain their cast iron heating stoves. The DE 15 was provided in order to pilot the train back from Mashike where there are no run-round facilities. The DE 15 type is usually associated with snowploughs and this was no exception, the mounting points for the ploughs being clearly visible. Twenty-one type DE 15 are based in Hokkaido. Other Diesel locomotives owned by JR Hokkaido are the eight DE 10 used mainly for shunting and the type DD 51 referred to earlier.


Open coach Torokko converted from a four wheel wagon.
Peter Dibben, September 2001.

Diesel locomotive haulage is also used for the 'Norokko' tourist service using open coaches between Toro and Kushiro. The other open coach, actually a converted four wheeled wagon (torokko), is hauled by a ki ha 54 diesel unit to allow passengers to admire the views between Minami- Wakkanai and Bakkai.


Freight
JR Freight also operates on Hokkaido. Nine freight ED 79 are based at Goryokaku (one station out of Hakodate) depot to haul trains, usually in pairs, through the Seikan tunnel. A duty that is shared with the type EH 500 based at Sendai. Diesel traction is necessary north of Goryokaku and through trains are handed over to either a 'Red Bear' DF 200 or a pair of DD 51. Most freight is containerised with the main terminals at Goryokaku, Sapporo, Higashi-Muroran and Obihiro being served by Super liner 100 km/h trains.


The Hokkaido Freight Diesel fleet has its main depot at Washibetsu near Higashi-Muroran and comprises 19 x DF 200, 52 x DD 51 and 10 x DE 10.




Private Railways

UPDATE - This railway closed on 21st April 2006.


There is one private railway on Hokkaido, the Chihoku Kogen Tetsudo, which runs from Kitami to Ikeda where some services run through to Obihiro over the JR tracks and attached to JR DMUs. The single unit railcars on this line are of two types. There are 8 x CR70 and 4 x CR75. One of the CR75 cars is an 'Event' car with carpets and Karaoke and available for private hire.

---
[
Home Page
]