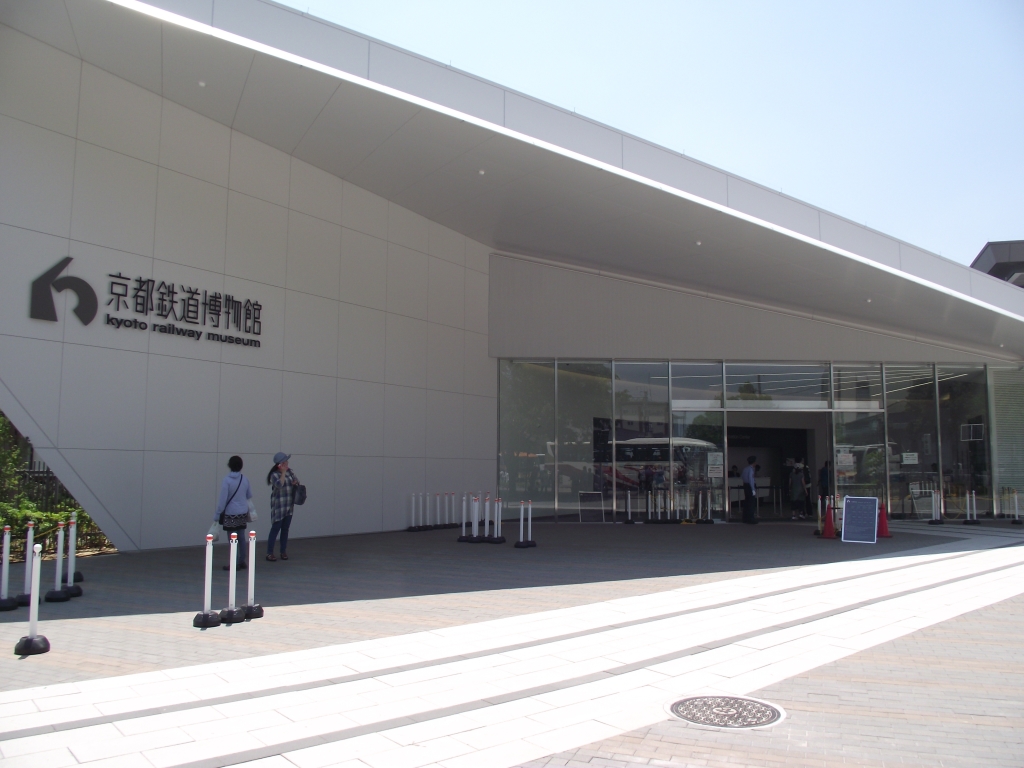 Located on the tri-angular junction of the Tōkaidō Main Line & the Sanin Main Line and opened in April 2016, it houses JR West's collection of historic stock from both the former Umekōji Steam Locomotive & Ōsaka's Modern Transportation Museums

Japanese Railway Society Homepage

Kyōto Railway Museum
On 29 April 2016, JR West opened their new Railway Museum as a
combination of the original Umekōji Steam Locomotive museum which opened on the site in 1972 with the collection from the former Modern Transportation Museum located at Bentenchō on the Ōsaka Loop Line. The Umekōji site had been expanded and extensively modernised to incorporate the enlarged collection. It is now the largest railway museum in Japan eclipsing those recently opened by JR Tōkai (SCMaglev and Railway Park, Nagoya in 2011) & JR East (The Railway Museum, Ōmiya in 2007).
The museum is located within the tri-angular junction of the Tōkaidō Main Line (aka JR West Kyōto Line) and the Sanin Main Line (aka JR West Sagano Line). It is approximately 2 Km (a 20 minute walk) west of Kyōto Railway Station. Alternatively, it is about a 15 minute walk south from Tambaguchi Station on the Sanin Main Line.
Cost of admission is ¥1200. For full information, please see the JR West
Museum Web Page.
Our member Charles Rudd paid a visit to the museum on 20/05/2016. His report is below and all photographs were taken by him. Photo captions contributed by Hiroshi Naito.
KYŌTO RAILWAY MUSEUM

The railway museum in Kyōto, which opened on 29 April this year, is the result of amalgamating the existing collections at Umekōji (Kyōto) (for which see Bullet-In No. 83, p.32-35, article by Des Hill on Umekōji, and our former chairman Richard Tremaine's report on his visit there in Nov 2014 and, much earlier, John Smith's 2000 article in Bulletin-In 34,p28) and at Bentenchō (Ōsaka), which is now closed. The new museum occupies the same site as before at Umekōji, and on 20 May I walked there in about 20 minutes (Richard seems to have taken only 15!) from Kyōto station, which was completely rebuilt in the 1990s. Exit the station on the north side, head west along the Shichi-jō Dōri, and you will find it well signposted.

Adult entrance fee is ¥1200, quite steep for a Japanese museum, but understandable when you see what it must have cost. It was pretty crowded, with a long queue for the restaurant, which I didn't need. There was some space outside with tables and chairs, which I thought inadequate for the number of visitors, and not much seating inside.

The oldest British locomotive I saw was a "British railway vehicle for gradient use", type 1800 tank, made in the UK by Kitson of Leeds in 1881, which later on was sold to the Toyo rayon factory and was in use until 1964. An early example of a home-made locomotive is the oldest mass-produced Columbia type tank from 1903, manufactured by Kisha Seizo Kaisha (here spelled "Kwaisha", as often) in Ōsaka: this and no doubt several others, is a designated important national treasure. The roundhouse includes the 2-6- 0 loco made by H.K. Porter of Pittsburgh, PA. in 1880, known as Yoshitsune; a C62 from 1948, the largest passenger steam loco; and a tank loco from 1901 made by converting it from a British-made tender. There are also several electric locos, the oldest I saw being an EF52 by Hitachi from 1928. The main hall includes a level-crossing, complete with flashing red light and bell, a reconstruction of a Meiji period station, and a replica of James Watt's steam engine. The history, right back to 1872, is well covered in various exhibits, with captions in Japanese and partly in English, and the whole business of railway operation is comprehensively explained in all its aspects, from driver training to electric traction with direct and alternating current. I didn't have time to go up to Level 3, where there is a "sky terrace" with a fine view over Kyōto, to judge from the souvenir book, which I bought in the museum shop for ¥1000. Well worth a visit when you are in Kyōto.

Earlier I spent three or four days in Kyūshū, and despite the April earthquake in Kumamoto prefecture, which sadly caused severe damage to Kumamoto castle alongside the human cost, on 17 May rode the shinkansen from Kagoshima (dep. 14:30) to Hakata (arr. 16:51) on a temporary timetable, which took about 45 minutes longer than usual. Clearly the engineers had worked hard to repair the track in time for the extended Golden Week holiday at the end of April.

Charles Rudd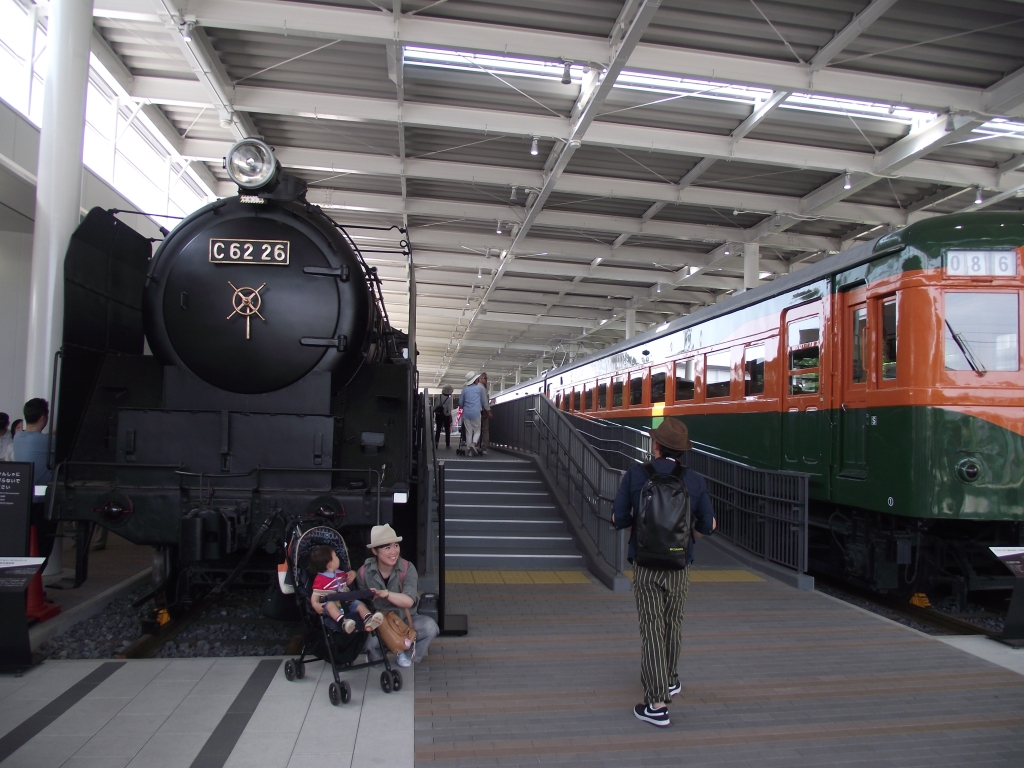 Exhibited in the promenade area is steam locomotive C62 26, 4-6-4 Hudson built in 1948 by Kawasaki, which once hauled the prestigious limited expresses Tsubame (Swallow) and Hato (Dove) on the Tōkaidō Main Line between Tōkyō and Kōbe in the 1950s. Located to the left of the C62 is an EMU set of the 80 series, consisting of the Kuha 86-1 control cab car in front and the Moha 80-1 motor car behind, which were launched in 1950 as a member of the first long-distance running EMU fleet in the country.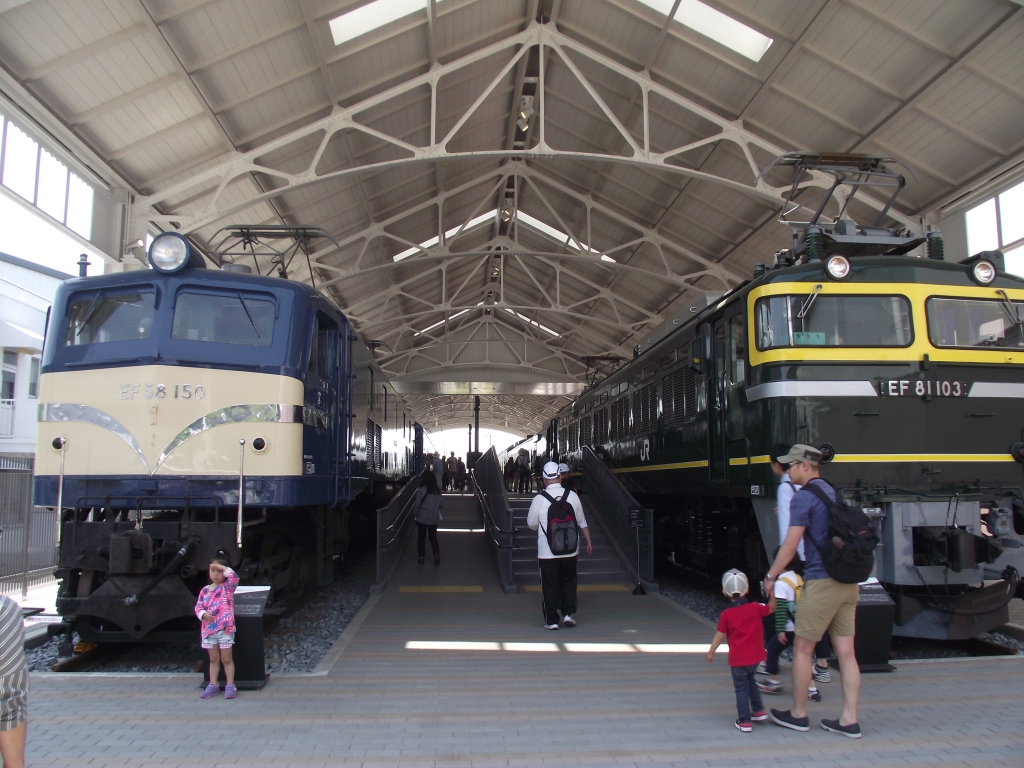 The main features of the Twilight Plaza are two electric locomotives of a semi-streamlined EF58 150 built in 1958 by Tōshiba and EF81-1 built in 1974 by Hitachi. The EF58, 2C+C2, was a DC electric used to be the main force of passenger trains before the EMU era and served main lines in the all parts of DC electrified territory, starting with the Tōkiado Main Line. The EF81, Bo-Bo-Bo, is an AC-DC dual voltage locomotive that is capable of running through three different electrification territories (20kV 60 Hz AC, 1500V DC and 20kV 50 Hz AC). The EF81-1 exhibited is in the special livery of the Twilight Express which used to run along the Sea of Japan coast corridor between Ōsaka and Sapporo.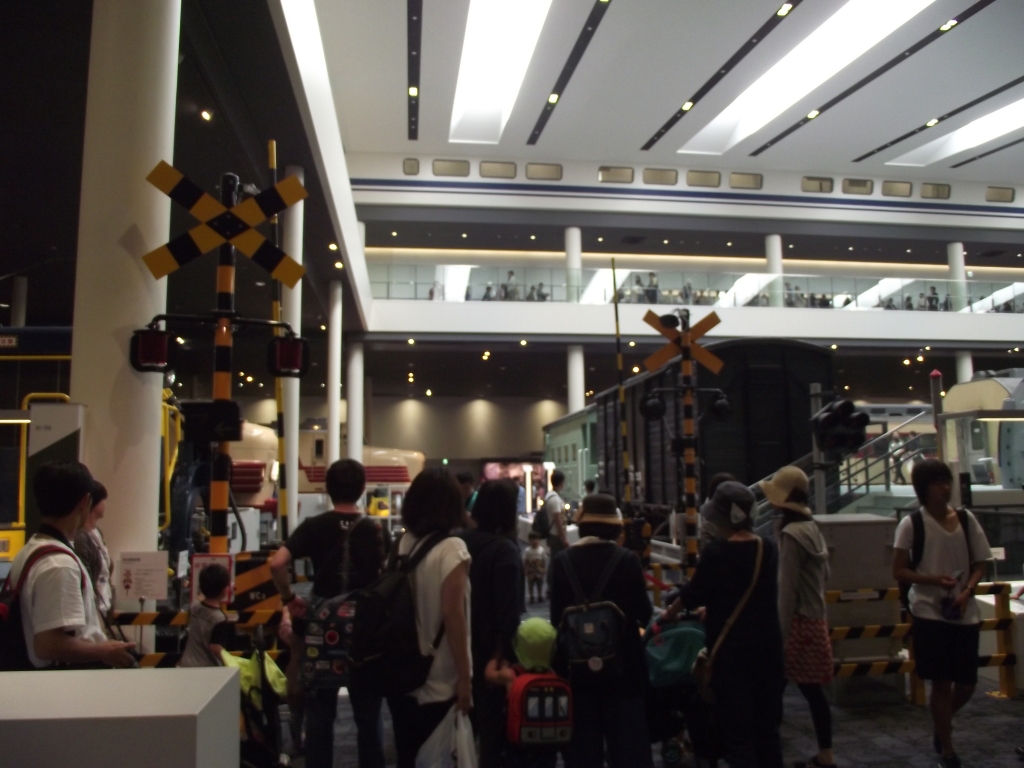 A site in the main building area seeing a combination of freight cars, a brake van of Yo-5008 and a van type goods wagon of Wamu 3500, with an assortment of level crossing equipment in front.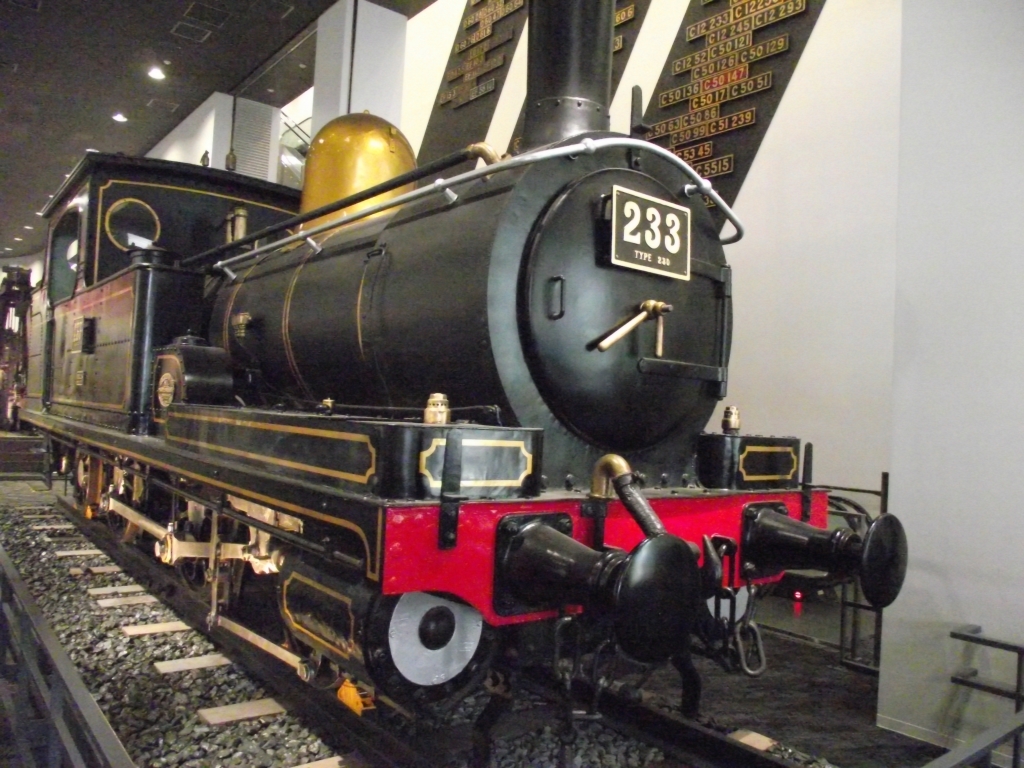 Steam locomotive #233, a 2-4-2 Tank, exhibited in the main building area. This locomotive was a member of the historic type 230 series, which was the first domestically mass-produced steam. 51 sets of this standardized steam were produced between 1903 and 1906.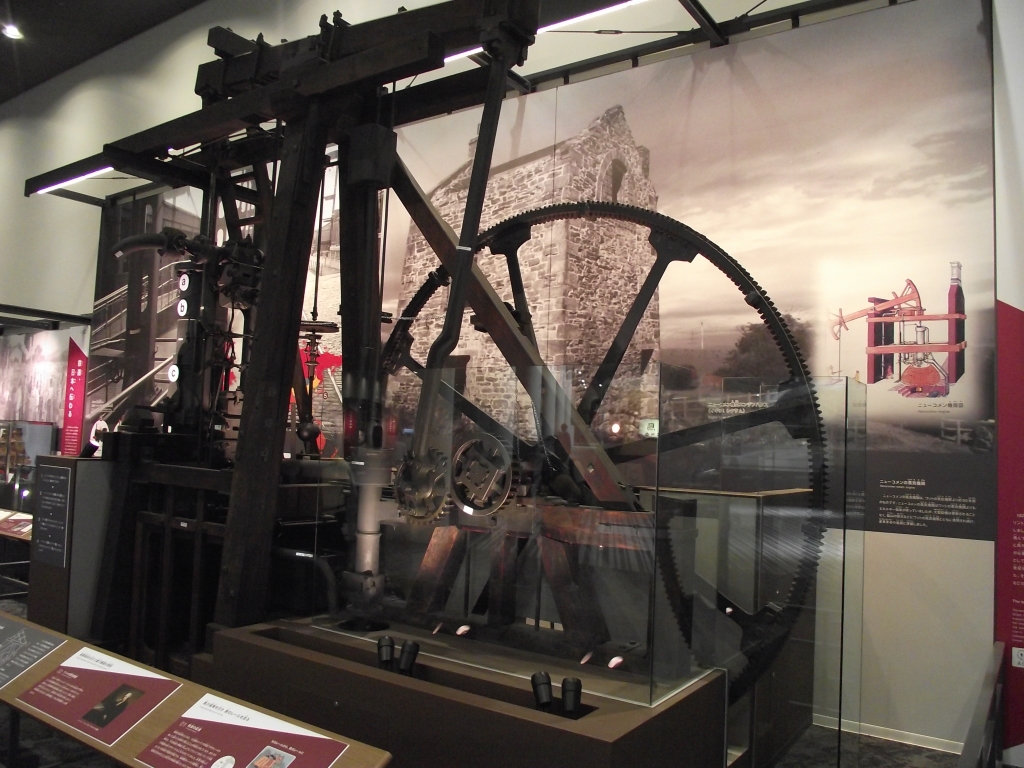 A
3
/
5
scale model of the double-motion type steam engine invented by James Watt in 1788.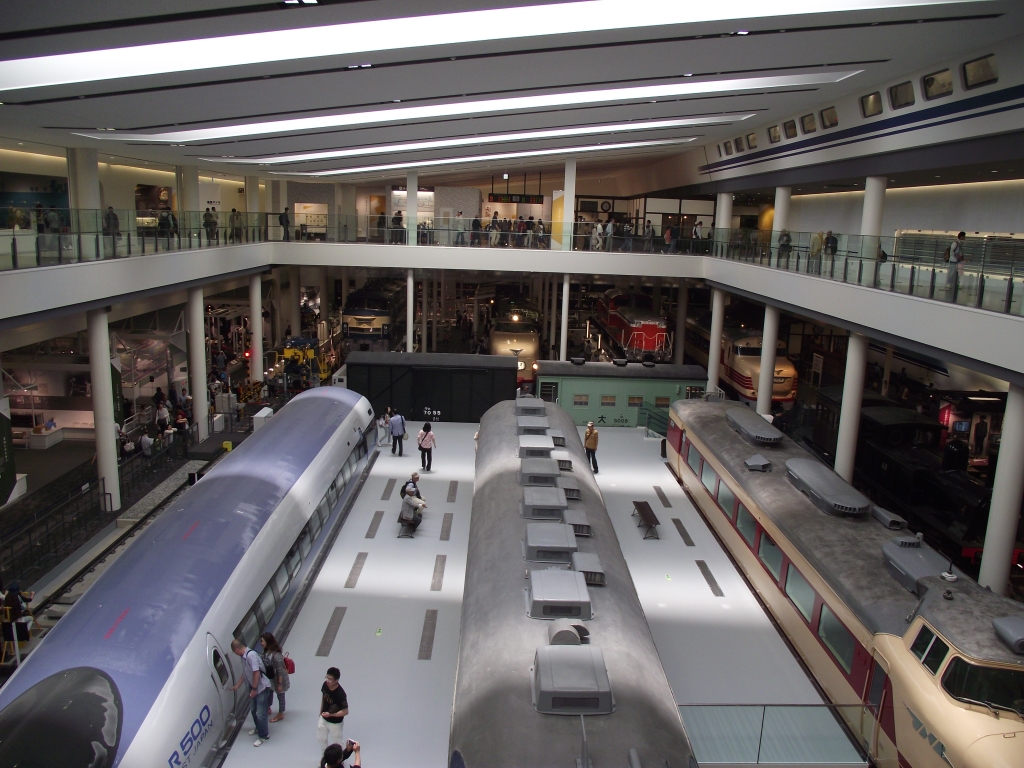 Looking down from the upstairs in the main building area are three sets of control cab cars from the left; the 500 series Shinkansen, Kuhane-581-15 sleeper EMU and Kuha 489-1 AC EMU.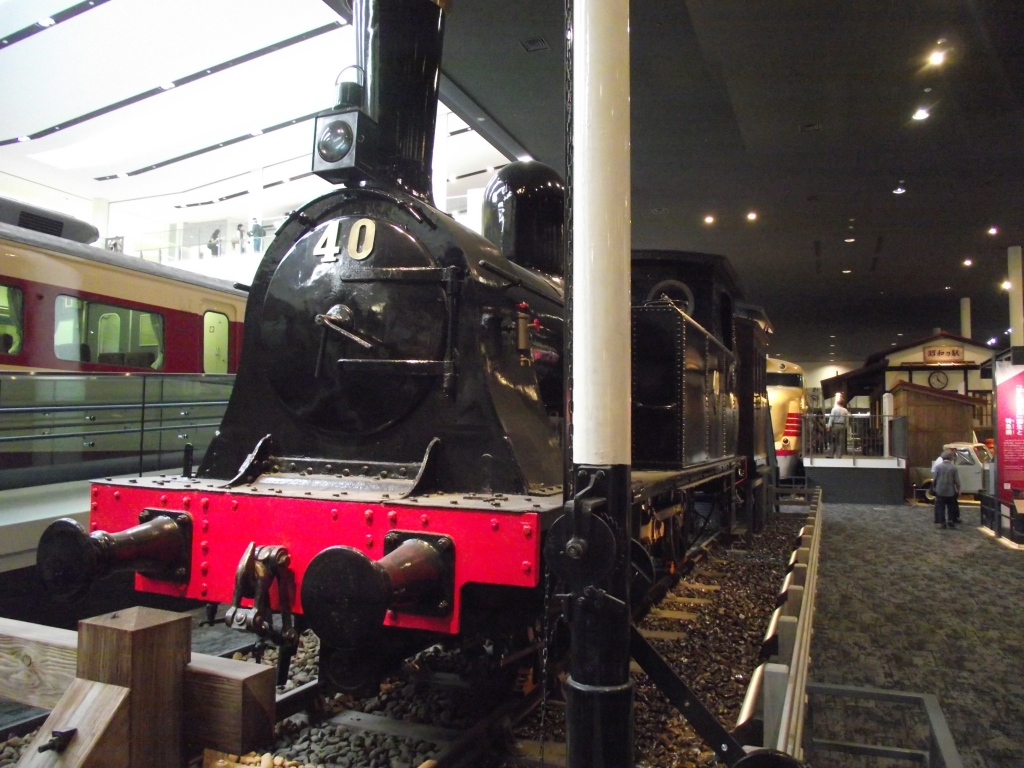 Another historic steam locomotive exhibited in the main building area is #40, 0-6-0 Tank, a member of type 1800 series imported in 1881 from the Great Britain. In favour of its superior performance, some tens of this type were introduced and used all over the country, particularly on main lines that included tough grading sections.

---
[Home Page]