At Yokokawa
By Hiroshi Naito
On the Shinetsu main line connecting Tokyo to Naoetsu on the Sea of Japan coast, there is a steeply grading section, so called Yokokaru (between Yokokawa and Karuizawa). This 11.2km section climbs over the Usui pass, which used to be one of the greatest natural barrier with high hills, rising above one another, and prevented railway construction for years at dawn of railway days. The barrier was finally overcome with an Abt rack rail system when the section was opened in 1893. Some Abt system locomotives were allocated at Yokokawa depot to assist trains going through this section with additional motive or braking power. The banking locomotives were first steam and then converted to electric units when the section was electrified on 600V DC in 1912.

The section was rebuilt in 1968 on a longer double track route with alleviated 6.7% grading, getting rid of the troublesome rack rail system. At that time, newly designed EF63s came to Yokokawa depot, and since then, they have been working on banking duties on this section.

This historic Yokokaru section is going to be discontinued soon upon the opening of the paralleling Nagano Shinkansen which links between Tokyo and Nagano, where 1998 Winter Olympics are going to be held. The photos below were taken at Yokokawa by Hiroshi Naito on July 5th 1997.


Yokokawa depot dedicated to banking work on the Yokokaru section.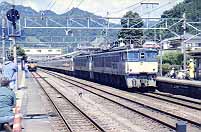 A limited express Asama assisted by banking EF63s are pulling into Yokokawa station.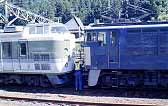 Banking EF63 being removed from Asama.


189 series Asama pulling out of Yokokawa station heading for Tokyo.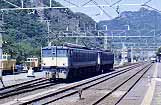 EF63s are in their blue livery.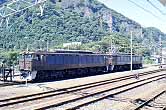 EF63s are in their original brown livery
---
At Nagano Station


DMU Kiha 58 (left) and Kiha 20 (right) in local work for the Iiyama line.


New 383 series in Shinano service between Nagoya and Nagano via Chuo-west and Shinonoi lines.
---
[Home Page]