Chichibu Railway
Its attraction is nostalgic steam and busy freight work.
Page 1
History and Background
| | |
| --- | --- |
| | |
| Steam engine C58-363 (2-6-2) leads "Paleo Express," west of Yorii | Chichibu busily operates hopper freight trains. |
By Hiroshi Naito
General:
The Chichibu Railway is a regional railway that runs 71.7km between Hanyu and Mitsumineguchi across northern Saitama prefecture, just north of the Tokyo metropolitan area, from east to west. It intersects with the Joetsu Shinkansen and the conventional Takasaki Line at Kumagaya, about 65 km north of Tokyo and 15 km west of Hanyu, where it connects to the Tobu Isezaki Line.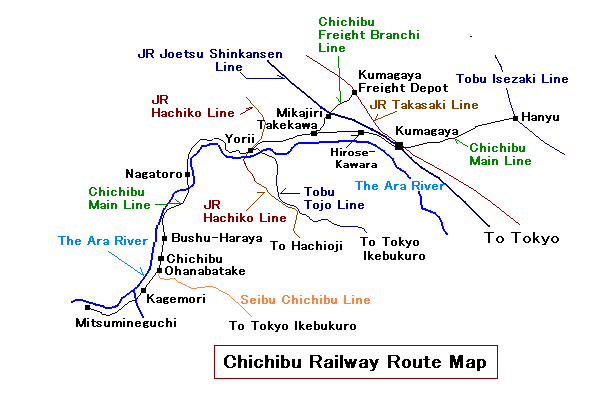 This regional railway was so named because its western end serves the Chichibu district. Chichibu, quietly situated at the foot of the Chichibu mountain range, is known as a historical town whose prosperity dates back to several hundred years because of its silk textile industry. Another factor in its fame is its cement industry, thanks to the rich limestone resources in Mt. Buko, located just south of Chichibu City. Mitsumineguchi (guchi means "entrance"), the western terminus of the line, is the access point for Mt. Mitsumine, known for the more than 1000-year-old Mitsumine Shrine located deep in a Japanese cedar forest near its summit, and also as the starting point for mountaineering in the inner Chichibu range. There is also a tourist spot along the main line at Nagatoro Gorge, which attracts sightseers with its beautiful canyon lined with abundant greenery on both banks. Thus, the Chichibu Railway plays three roles: as a commuter service over the eastern segment linking Kumagaya (Yorii-Kumagaya-Hanyu), as a freight transportation service and as a tourist railway service.


Deki-108, at Kumagaya.

The freight hauling fleet resting at Hirosekawara depot.

Oki-100 and Okifu-100 hoppers at Hirosekawara depot.

The origin of the railway dates back to in 1901, when the Jobu Railway - the predecessor of Chichibu - opened the first segment between Kumagaya and Yorii, with its steam-hauled trains. The line was extended to Kagemori in 1917 with the commencement of freight service to transport limestone quarried on Mt. Buko. The eastern segment between Hanyu and Kumagaya was initially operated by the Hokubu Railway, but was merged with Chichibu Railway in 1922. The line was entirely electrified in the same year on 1200 VDC. The railway was finally extended to Mitsumineguchi, completing the current trackage. In 1952 the voltage was increased to 1500 VDC, as the JNR Takasaki Line was electrified on the same voltage.


The line consists entirely of single track on 1,067 narrow gauge with 31 interlocking stations including both terminals and five non-interlocking stations. It is fully signaled with automatic blocking systems along with an automatic train stopping (ATS) system. The traffic is entirely controlled through a centralized traffic control (CTC) system.


The railway's main line looks like single line crossing over the two JR trunk lines at Kumagaya, but the passenger traffic splits into two different flows on the eastern and western segments across Kumagaya. Although the railway is a normal passenger line served by EMUs, it attracts railway enthusiasts due to its two distinctive features: busy freight operations and steam trains.


The Chichibu Railway cannot be mentioned without referring to Chichibu-Onoda Co. (established in 1994 through a merger between Chichibu Cement Co. and Onoda Cement Co.). Since the foundation of Chichibu Cement Co. in 1923 to utilize the limestone resources on Mt. Buko, the company has been deeply involved with the Chichibu Railway in terms of both capital and corporate officers. Chichibu-Onoda is still the top stockholder of Chichibu Railway Co.


Freight Operation:
The railway's freight operations take place between Kagemori and Kumagaya freight depot on the JR Takasaki Line reached from Takekawa station through a freight branch line (7.6 km). On the main line there are four freight yards, at Hirosekawara, Bushu-Haraya, Chichibu and Kagemori. There used to be a short freight branch from Kagemori to Buko, but it was abolished in 1984 when a belt conveyer system was put into service between Mt. Buko and Nippon Cement's Saitama Plant.


Chichibu's freight hauling fleet consists of 21 50-ton class electric locomotives. There are eight Deki-100s, three Deki-200s, three Deki-300s and seven Deki-500s, built by Hitachi in 1951, 1963, 1967 and 1973, respectively. The railway also owns a number of freight cars, comprising over one hundred hoppers and some tens of brakeman-cabin-equipped hoppers.


Chichibu's freight operations are the busiest among non-JR private railways in Japan. The freight operations mostly consist of limestone transportation between Kagemori and the Mikajiri freight depot on the branch line, where a Chichibu-Onoda cement complex is located, and cement trains between Chichibu and the JR Kumagaya freight depot, with each making about 15 round trips a day.

| | |
| --- | --- |
| | |
| C58-363 pulling out of Minano station. | Down-bound Paleo Express on the longest bridge of Chichibu Railway over the Ara River. |
Steam Train:
Steam operations started in 1988 as a weekend tourist attraction with C58-363 (2-4-2, 58.9 tons), ex-JNR general-purpose steam engine, which was formally used on local lines throughout the country. Like the Oigawa Railway, the steam train features genuine old coaches, which make it most attractive. The train has been dubbed with an unusual name, the "Paleo Express," after a legendary creature in the Chichibu district. It once was decorated with the letters of its nickname in gold on the sides of the tender, but thankfully was later repainted in its original plain livery. The steam train is currently operated between Kumagaya and Mitsumineguchi, a distance of 56.8km, on most Sundays except in winter.

Chichibu's most common EMU Type 1000, ex-JNR 101 class.
Type 2000 EMU, ex-Tokyu 7000 series.


Type 3000 EMU, ex-JR 165 class, in service for express train "Chichibu-ji."
Seibu Type 4000 EMU in service for Ikebukuro/Tokyo-through operations
Rolling Stock in Regular Passenger Service:
The most common rolling stock in the Chichibu Railway's EMU fleet for regular passenger service is Type 1000, which is the ex-JR 101 class. Express trains make several round trips a day using Type 3000, the ex-JR 165 class, with their attractive crossed seats. Four 4-car Type 2000s, the ex-Tokyu Electric Railway 7000 class, are also in the fleet. Weekend specials are through trains from Seibu Railway using Type 4000 that directly connect to Ikebukuro in Tokyo.

---
The information and data were taken from "Chichibu Tetsudo" by Kazuaki Sawauchi in the Railway Pictorial No. 260 (April 1996 special edition).
---
[Home Page]