Bullet-In # 50



Issued: April - June 2004

Contents:

News Update (by Anthony Robins) - A regular round-up of news from Japan over the past three months.
March 2004 Timetable Revision (by Dave Fossett) - An overview of the major changes and service improvements involved in the March 2004 timetable revision. The biggest upheavals are in Kyushu, with the opening of the first section of the Kyushu Shinkansen between Shin-Yatsuhiro and Kagoshima-Chuo.
An Editor's Look at 50 Issues of Bullet-In (by Oliver Mayer) - Oliver Mayer looks back over the past 50 issues of Bullet-In published since 1991 and describes the changes and improvements that have been made to the magazine over the years.
The DF50 Locomotives (by Richard Tremaine) - A brief look at the history of the often-overlooked DF50 diesel-electric locomotives. Used mainly for hauling overnight sleeper services over non-electrified lines in the west of Japan, this class of locomotives was withdrawn in 1983.
The Birth and Life of the Series 50 Coaches (by Naoaki Okada) - An historical look at the 50 series passenger coaches and their different variants. The original "red train" coaches built for local loco-hauled services are now no more, and the coaches built for use on Seikan Tunnel services have also recently been displaced by new multiple-unit trains.
Series 50 Tramcars (by Colin Brown) - A look at tramcars around the country numbered in the "50" series.
50 Electric Tramway and Trolleybus Closures (by Wally Higgins) - 50 tram and trolleybus system closures in the final 50 years of the 20th century.
50 Railway Terms - Usage in the UK, USA, and Japan (by Hiroshi Naito) - A comparison of railway terminology used in the UK, USA, and Japan.
20,000 km to go (by Manfred Meyer-Wucherpfennig) - A diary recording an attempt to cover more than 20,000 km by train using a 2-week Japan Rail Pass. Manfred samples trains in Kyushu, Shikoku, Honshu, and Hokkaido during his travels.
Attempting more than 4,000 km in 24 hours (by Manfred Meyer-Wucherpfennig) - Inspired by an earlier challenge to travel more than 4000 km in 24 hours, Manfred relates his attempt to translate into action the plan he described in Bullet-In issues 47 and 48. Not everything goes according to plan, however, so does he ultimately achieve his goal?
Once Used - or Second- and Third-hand Tramcars (by Colin Brown) - A record of how tramcars around the country have changed hands or been rebuilt over the years.
Blooms in the Garden of Peacock (by Richard Tremaine) - An historical look at the steam locomotives of the Tobu Railway built by Beyer Peacock in the UK.
Have You Heard of "Tokuyuki"? (by Makoto Onouchi) - An overview of "Tokuyuki" snow plough locomotives and operations in Japan.
Japanese Train Names Used Outside Japan (by William Pearce) - Present-day Japanese train names that were used in earlier days by railways outside the Japanese home islands.
Riding the Yokohama Railroad in 1878 (by Dave Fossett) - An extract from an account written by Isabella Bird, which provides a fascinating look at early rail travel in Japan shortly after the first railway opened between Shimbashi in Tokyo and Yokohama in 1872.
JRS Shop and Library - A list of books and videos on Japanese railway subjects which can be ordered directly from the JRS in the UK.
Model-in: Seiketsu (by Michael Keeble) - A description of a large Japanese module forming part of the N Gauge Society East Surrey Group's modular layout.
Model-in: More Kits for Your Layout (by Oliver Mayer) - A look at the current selection of houses, historical structures, road vehicles, and ships available from manufacturers not necessarily known for producing model railway-related items.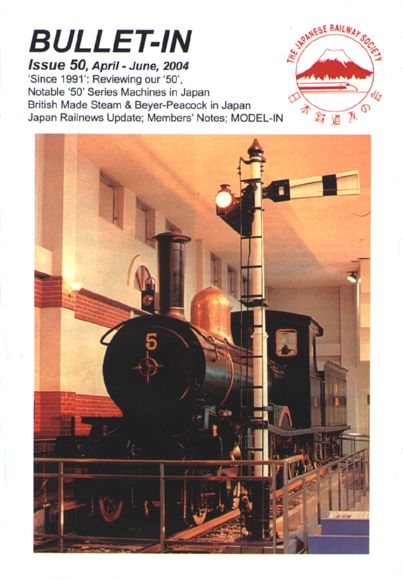 Front cover:
Toby Railway's Beyeer Peacock loco of 1897 (report p. 42) Two, which continued to serve Tobu until the late 1950s, have been preserved: No.5, at Tobu's museum where it is 'driven' for 5 minutes every 2nd hour on a 'rolling road', the sounds of 'steam' replaced by compressed air as the loco pistons reciprocate. No. 6 is placed under a nearby Tobu overbridge, surrounded by a heavy security fence. How nice if it could be rescued!